Miscellaneous
This page lists miscellaneous services who are advertising on the Soul and Mod directory. This applies to those for example, selling art work, furniture or stationary. All which relate to a mod subculture or soul music related theme. If you would like to advertise, please register to add a free listing. Alternatively log in to manage your advert. Please note that all listings require approval before going live on the site. Furthermore you may also wish to use the find listings facility button. Here you can search within this directory for other services that relate to Mod subculture or Soul music.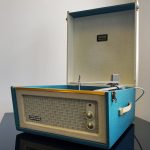 Service, restoration and sales of Dansette Record players.
Actually we will repair any make but our main area of expertise is the Dansette brand.
We supply spare parts including cartridges and stylus.
You can send your record player to us for repair, call in or we can arrange by courier.