Mod & Soul Facebook Pages & Groups
This page lists Facebook group and Facebook pages who promote and are advertising their service on the Soul and Mod. This applies to those specialising in music genres ranging across early 60s R&B, Soul, Northern Soul and Mod. Also for groups and pages that concentrate or include a theme pertaining to 1960s Modernists. In addition also to the Mod Revival, clothing and style of Mods, as well as Lambretta and Vespa scooters. Furthermore Facebook groups and pages that discuss the culture of the 1960s. Ranging from those which specialise in film and 1960s cinema, 1960s books and authors to those concentrating on 1960s vintage clothing. If you would like to advertise your group or page, please register to add a free listing. Alternatively log in to manage your advert. Please note that all listings require approval before going live on the site. Furthermore you may also wish to use the find listings facility provided, to search within this directory for other services related to Mod subculture or Soul music.
Group for all Mods and the entire spectrum of Mod sounds.
Global Modernism – The respectful and friendly group for both traditional Modernists and Revivalists, the full spectrum of Mod sounds are covered.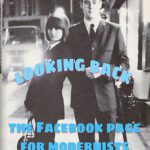 Looking back is a Facebook group for lovers of the 1960s mod scene. Post your tunes, pictures up and coming events etc..and most of all enjoy.
Style conscious modernists, without the tat xx
Modernistas – The group for people that realise there's far more to the scene beyond a flag, The Jam and far too many bits and bobs on the front of your scooter. Style and detail are key. xx