Mod & Soul Facebook Pages & Groups
Group for all Mods and the entire spectrum of Mod sounds.
Global Modernism – The respectful and friendly group for both traditional Modernists and Revivalists, the full spectrum of Mod sounds are covered.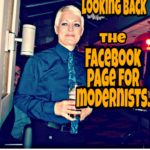 Looking Back The Facebook Group For Modernists
Looking back is a Facebook group for lovers of the 1960s mod scene. Post your tunes, pictures up and coming events etc..and most of all enjoy.
Style conscious modernists, without the tat xx
Modernistas – The group for people that realise there's far more to the scene beyond a flag, The Jam and far too many bits and bobs on the front of your scooter. Style and detail are key. xx
Please follow and like us: