Short Description
Vintage & Retro For Various Styles Including 60s, Mod, Dollybirds, Scooter Guys & Girls, Skinheads, Ska, Mod Revival, 80s, Northern Soulies & More!
Long Description
Vintage & Retro Clothing & Homewares Online Shop. Selling A Variety Of Items From The 50s/60s/70s/80s/90s & Modern Day Repros In Different Styles & Sizes. Something For All!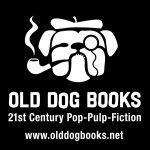 Long Description
Publishers and one stop shop of new breed 21st Century Pop-Pulp-Fiction!