Federal R&B Club Weekender – Stoke
5th October 2018 @ 8:00 pm

-

7th October 2018 @ 2:30 am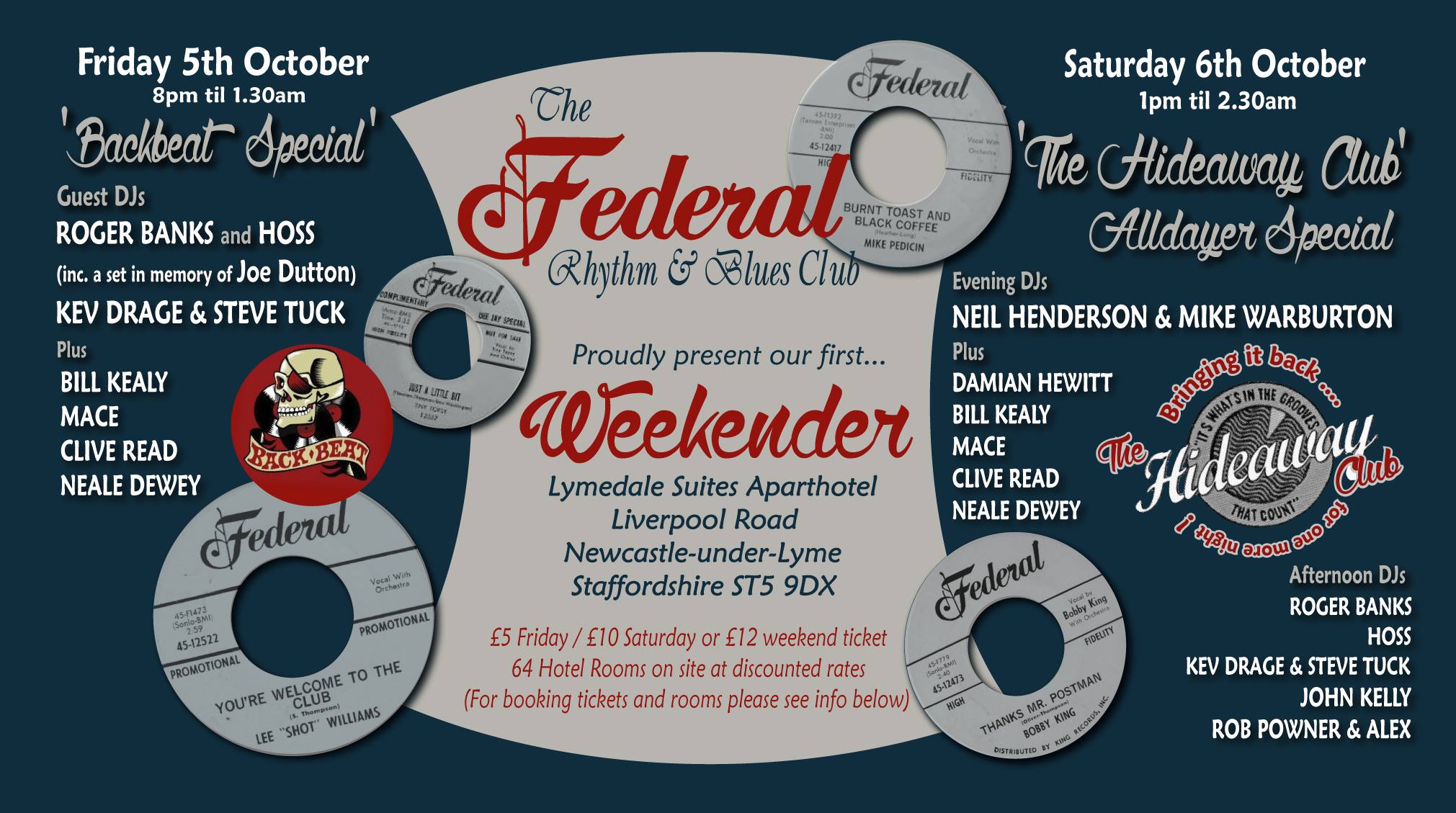 So after a few good years running our highly successful Alldayers, we decided it was about time we stretched the whole experience out for a full weekend!
The venue used for my 50th birthday seemed ideal, with 64 recently refurbished hotel rooms on site at affordable prices, coupled with a decent sized function room that suits our needs perfectly.
This needs to be an event that will attract folks to the Friday evening as well as the Saturday Alldayer….and I'm confident that the line-up of DJs for both days compliments what we set out to achieve at the Federal Club.
Friday night starts at 8pm and runs til 1.30am, and is dedicated as a 'Backbeat Special'…….a very successful R&B club, that was named, and hosted by the late Joe Dutton…..a good friend, top bloke and highly respected regular on both the R&B and Soul scenes.
I obviously asked Becky for consent in using the 'Backbeat' name, and coupled with a guest DJ line-up of Backbeat residents and regulars, Roger Banks, Hoss, Kev Drage and Steve Tuck, we are sure this is a fabulous way to kickstart our first weekender.
Roger and Hoss will also be playing a set in memory of Joe, selected from records that Joe used to feature in his R&B sets…..Becky has even offered to supply a box of Joes actual 45s to play out……it's the closest we could get to having him join us (other than getting Bex to DJ, which she graciously declined, cus her boobs apparently knocked the mixer settings out last time she tried !)
Anyways, I'm sure you will all agree its a great way to get us up and running and I hope plenty of you will join us on the Friday session.
So, how could we top the Friday night…..well, we think we have come up with the goods once again with a 'Hideaway Special'.
I'm delighted that Neil Henderson and Mike Warburton have agreed to do this for us for one more night….who know if, and when, it will happen again, but its fair to say that 'The Hideaway Club' has played a massive part in shaping and building the current R&B scene, and was certainly influential in the way we run and promote 'The Federal Club.'
Neil and Mike will be suitably assisted by Damian Hewitt, who was pretty much part of the fixtures and fittings at all the Hideaway events back in the day.
Running as an Alldayer on the Saturday, from 1pm to 2.30am, we feel confident we can satisfy your appetite for a heavy session of Rhythm & Blues with plenty of booze!
We also have Rob Powner & Alex (Wang Dang Doodle), John Kelly (MG Blues) as well as the Friday night DJs, spinning some tunes on the Saturday afternoon.
All complimented with the weekends resident DJs – Bill Kealy, Mace, Clive Read and Neale Dewey.
TICKET INFO
Friday night will be £5 adm.
Saturday Alldayer will be £10
Or a weekend pass for both events will be available for £12.
Anyone who books a hotel room at the venue will be GUARANTEED a ticket for the nights they are staying…..we will also have a small allocation of tickets for locals and those travelling in from nearby who don't need the use of a hotel room, but these will be sold at a later date, on a first come first served basis, once the hotel has been booked out…….it is obviously necessary for us to ensure everyone staying at the hotel can be assured a ticket.
HOTEL ROOMS
We are initially only going to start releasing Hotels for the weekend option, which is £80 total for the 2 nights (per room).
After a while, we will then open up the option to book rooms for single nights at a rate of £48 per room per night.
We will give plenty of advance notice as to when single nights can be booked.
We have tried our hardest to get the best rates possible, however, the hotel does attract a fair amount of custom from folks travelling up for Alton Towers, which is still open in October.
The rate is still very attractive, and obviously saves the need of booking Taxis.
PLEASE NOTE – You do not have to pay any deposit when booking your room, simply pay in full on arrival at check-in……so you can pre-book your rooms at no cost other than that of a phone call….which in turn guarantees you admission into the event
TO BOOK YOUR ROOM at the discounted rate
Simply phone LYMEDALE SUITES on 0800 069 8010 and quote FEDERAL WEEKENDER for the rate of £80 for both nights (Oct 5th and 6th).
More info will follow in due course, but we expect this to be a very busy event and would encourage you to reserve your room as soon as possible.
https://www.facebook.com/events/424383114688316/
© 2018, Jayne Thomas. All rights reserved.
Please follow and like us:
www.w3.org/TR/REC-html40/loose.dtd">