For Dancers Only Rhythm & Blues Weekend
15th June 2018 @ 8:00 pm

-

17th June 2018 @ 2:00 am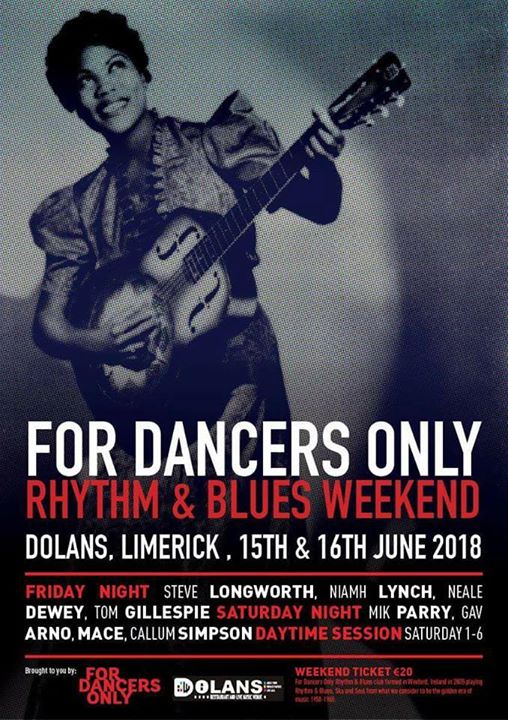 Well here it is…after 13 years or so of doing our little Rhythm & Blues Club we are delighted to announce our very first weekender…Just as a one off we have had to move from our beloved Thomas House in Dublin to Dolans in Limerick but as always we have an absolute world class DJ lineup for the weekend events…It also my 50th Birthday Weekend so be prepared to party!!!!
Guest DJs
Friday Night –
Steve Longworth (Down In The Basement, Manchester)
Niamh Lynch (London/Dublin)
Neale Dewey (The Lounge, Stoke)
Tom Gillespie (Burnt Toast & Black Coffee, Glasgow)
Saturday Night –
Mace (The Pow Wow Club, Sheffield)
Callum Simpson (The Pow Wow Club, Sheffield)
Mik Parry (The Pow Wow Club, Sheffield)
Gav Arno (The Pow Wow Club, Sheffield)
Saturday afternoon session –
1-6 hosted by our good friends at Rhythm'n'Booze from Limerick…
Nearest Airport is Shannon but an hourly (at least) bus service also runs direct from Dublin Airport to Limerick City
Both Dublin and Rosslare ferry terminals are about a 2-3 hour drive if you fancy bringing your car to the beautiful West Of Ireland.
Weekend Tickets are available now at 20 Euros each and are payable to sandrakealy@yahoo.co.uk as a gift please
Make sure and put your name on the payment and if you'd like them posted just add 1 Euro (not per ticket)
Tickets are limited to the size of the venue
See you all NYE in Dublin
Bill x
© 2018, Jayne Thomas. All rights reserved.
Please follow and like us: