Looking Back – The long awaited return of SRS Promotions!
2nd June 2018 @ 8:00 pm

-

3rd June 2018 @ 4:00 am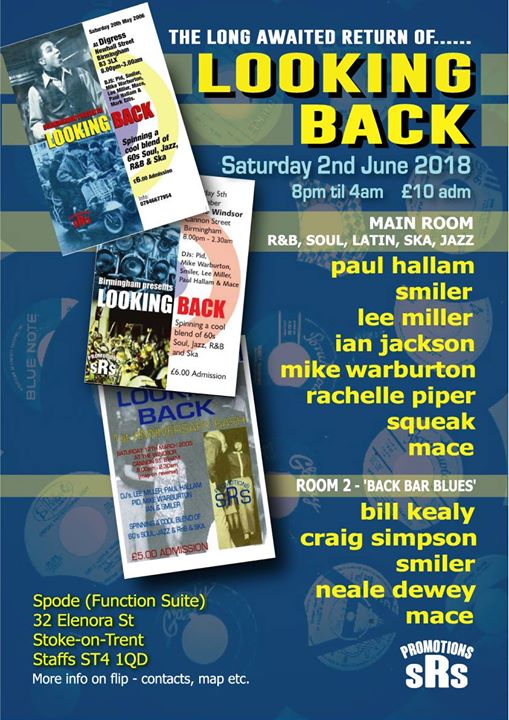 Probably the best DJ line-up since those halcyon days of the 80s Mod Scene…….it took some effort to get these guys back together, (and we are gutted we couldn't get Pid involved due to prior commitments)…..but ask yourself when you are likely to see all these DJs on the same line-up again in the future?
Squeak has decided to put one more 'Looking Back' together…..the last was nearly 12 years ago……he couldn't find the right venue in Birmingham, but Mace and Neale Dewey just happened to have the perfect location in Stoke.
'Spode' is an old Pottery Works that has recently been converted into different areas for public use…..and one of these area just happens to be an outstanding 2 room function suite, with a license til 4am.
There is ample private parking on site, and the venue is just a mile or so from Stoke Railway Station.
There are plenty of hotels in the area including one directly opposite the Station…..we may also have use of a Students Accomodation block nearby (waiting for further confirmation)
The Main Room will be run as per the original ethos of those previous 'Looking Back' events, using original quality name DJs from the 80s Mod Scene.
Room 2 will be 100% Blues, again from a formidable line up of DJs who can deliver the goods.
So, here it is…..in a year of so many quality events to choose from, another 'must do' for the diary.
As a footnote, both Squeak and I have the exact same feelings regards dress codes……we appreciate your effort to dress smart and respectable, but do not wish to enforce a strict Mod Dress Code at this event…..please respect others who choose to not follow any such dress code…..we may feel justified to judge you on your taste in music….. but nothing else !
© 2018, Jayne Thomas. All rights reserved.
Please follow and like us: