Scorcher – 26/11/22
26th November 2022 @ 7:30 pm

-

27th November 2022 @ 2:30 am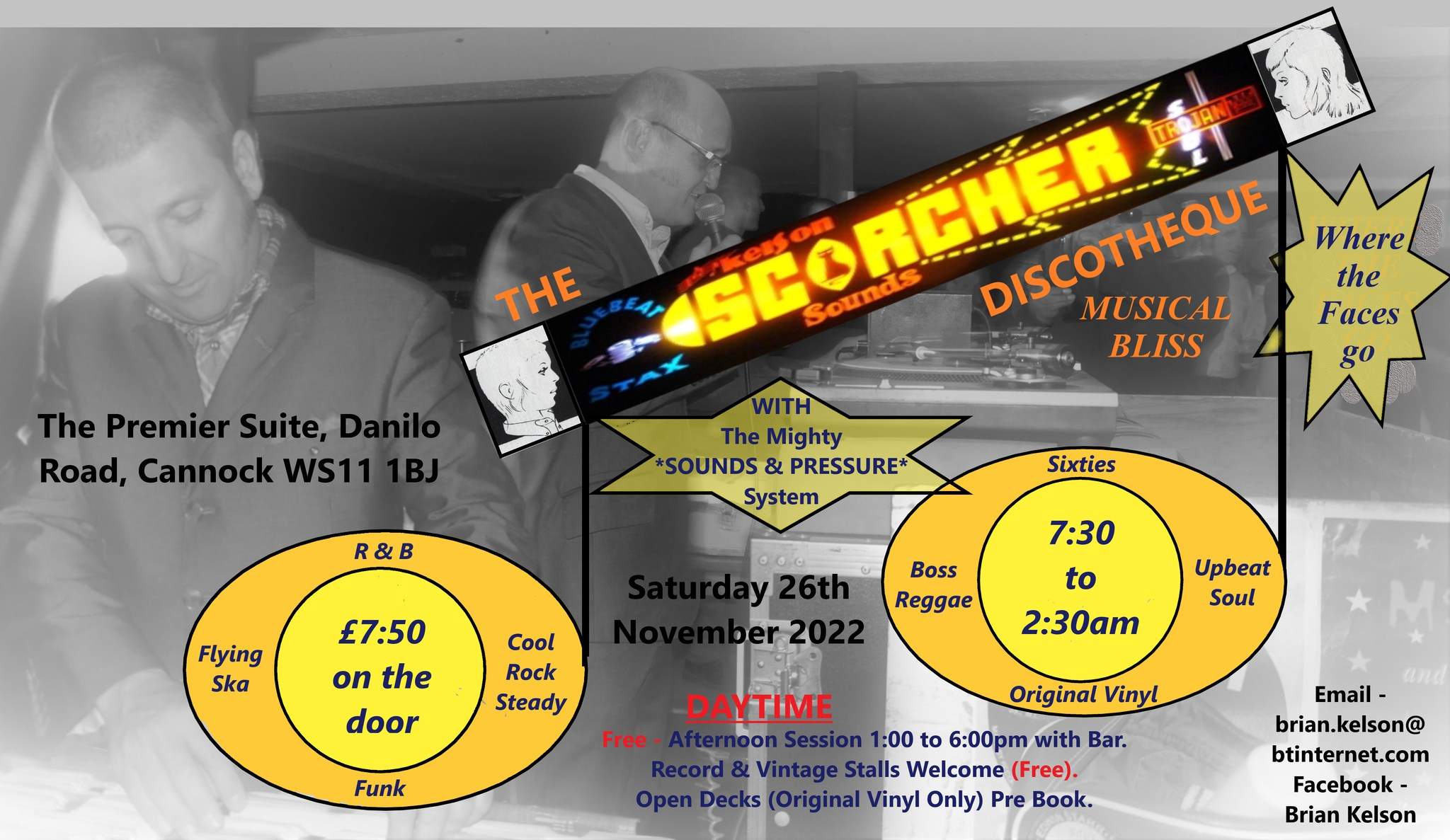 And all roads lead to Cannock, central England, on Saturday 26th of November 2022, ( Close to M6, J11 & 12 + M6 Toll )
for The 'BOSS' night of the year, the 22nd annual 'SCORCHER' event.
The biggest one night original skinhead style do of the year, so whether you're a face on the current original style skinhead scene, a mod, suedehead, or just a fan of the original 1960's Ska, Rock Steady, Soul, and Reggae, you won't wanna miss this night.
All music played on original 7" vinyl, from the mega rare to the classics, but all with the beat to make you move your musical feet.
And for your further musical pleasure Scorcher has hired in the mighty 'Sounds and Pressure' system, so you can hear the reggae and soul as it would have been heard back in the day.
There's also live footage of the records being played, screened up on the walls.
There's a free afternoon session, from about 1pm to 6pm, so all who have travelled can meet and greet, have a chat, and hear some sounds. We're doing Open Decks in the afternoon, so all you budding DJ's, young or old, can have a go and show us what you have. Original vinyl only, and pre book by contacting me.
There will be food available at the venue, and as its in the town centre there are plenty of take aways and restaurants near by.
There's always some vintage clothes and record stall present. If you want to sell something then just bring it along, there's plenty of room, just grab a table and it's free.
All beers are on tap and at reasonable prices.
So don't be an L7, get hip, suited and booted for 'Another Scorcher'.
It's situated in the town centre of Cannock, which is very close to the M6 and M6 Toll junctions, so there are hotels and B&B's close by.
It's all happening at The Premier Suite, Danilo Rd, Cannock WS11 1BJ
£7.50 admission
For more info – message 'Brian Kelson' on facebook.
Dress to impress, 'cause remember, this is were all the faces go.
© 2022, Jayne Thomas. All rights reserved.
Follow me :