The Cookin' Catfish Club 10 – Sold Out
12th November 2022 @ 7:30 pm

-

13th November 2022 @ 1:00 am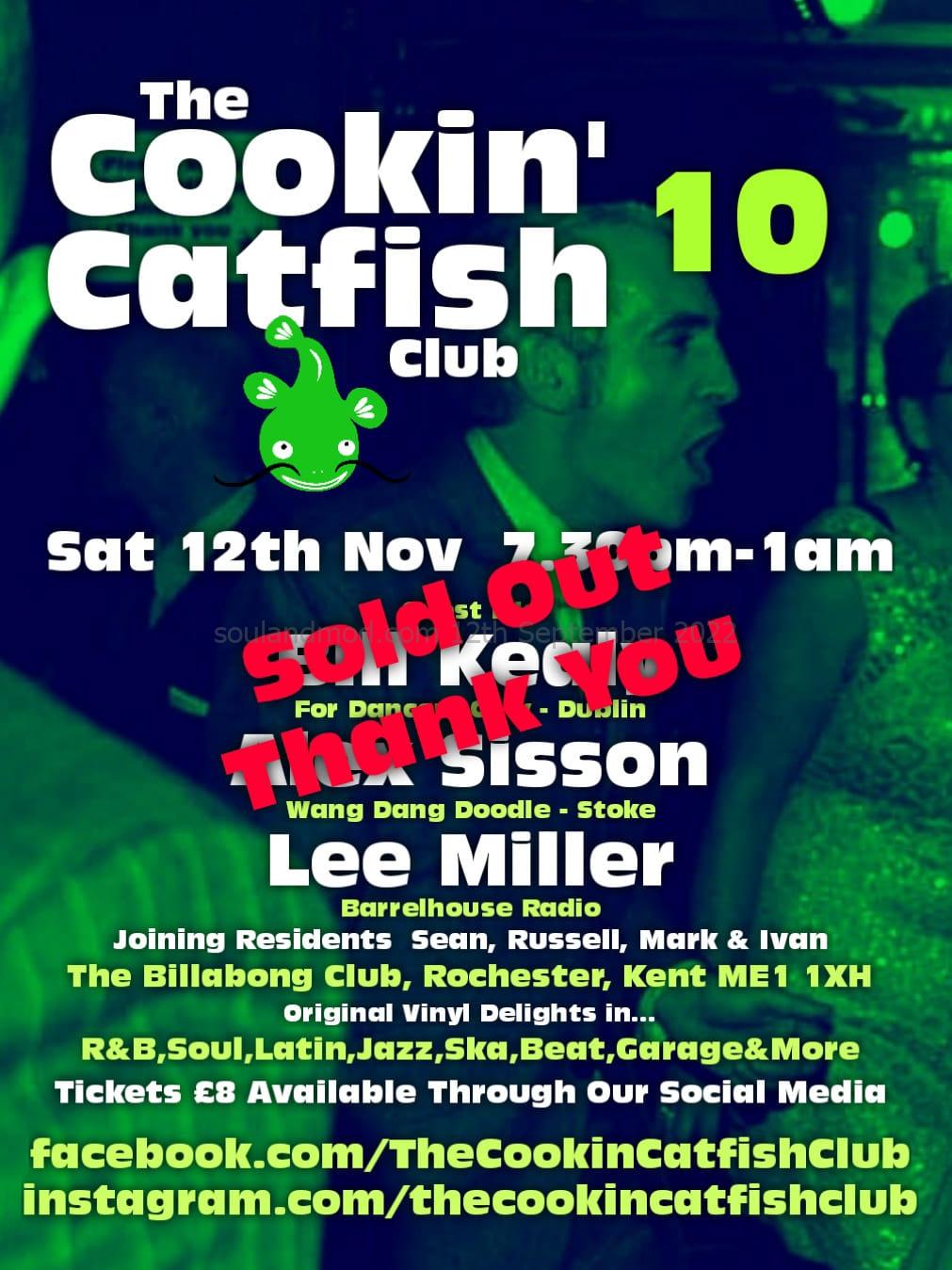 Kent's sharpest night out, 10th edition! 
4 and a half years on, we've made it to the big One-oh 
Again, in our perfectly seedy basement home, The Billabong Club. Part of The Royal Function Rooms, Rochester. ME1 1XH
Ferocious rhythm & blues, soaring club soul. Latin, jazz, ska, beat, garage & more.
The greatest underground club sounds of the 1950s & 1960s spun on original vinyl, infront of the sharpest dancers in the Medway delta. Saturday 12th November. 7.30pm until 1am.
Joining the usual Catfish selectors for an electric night in Rochester, we welcome Bill Kealy over from Wexford, Ireland. Bill is an internationally renowned DJ, running his own For Dancers Only club night in Dublin as well as being resident at The Federal Club and a regular guest at Pow Wow. He's DJ'd throughout Europe & is now bringing his record box of delights to tropical Medway. It's an honour to have him on at our little basement party. I'm sure this introduction was completely unnecessary for most of you. The name was enough!
Check out Bill's mixcloud here, 
https://www.mixcloud.com/billkealy/
Alexzandra Sisson of Wang Dang Doodle fame, makes a welcome return to The Cookin' Catfish. Alongside co-running one of the UK's premier Mod/60s alldayers, Alex has been busy this year spinning tunes & filling dancefloors in Munich, Margate and soon Upset the town in Pontardawe, South Wales. Her last CC guest spot in June 2019 shook our basement and it'll be great to dance to her selections once again.
Also guesting of course, The big wheel, the bossman, Lee Miller.
The man that will have discovered & broken to the wider world, many of the records you know & love. Come along & see/hear what he's got up his sleeve.
Check out his weekly radio show, Gettin' To The Point, every Tuesday 6-8pm on Barrelhouse Radio. Also, his own mixcloud here
https://www.mixcloud.com/leemiller315080/
It promises to be another fantastic night, with records spanning the genres advertised. Come & dance to the tunes you already love alongside those records about to become your new favourites.
Tickets have now sold out. If you'd like to be added to our waiting list, please message the page.
The Cookin' Catfish Club naturally attracts very smart & colourfully dressed people, but we do not enforce any dresscode. All are welcome. Please just be aware of the environment you'll be walking into. We ask all attending to keep your drinks off the dancefloor.
There will be security so if you are fortunate enough to look young, bring ID along with you.
R.O.A.R. Entry by 11 please.
See you on the night… 
© 2022, Jayne Thomas. All rights reserved.
Follow me :