The Cookin' Catfish Club – Opening Night
30th June 2018 @ 8:00 pm

-

1st July 2018 @ 8:00 pm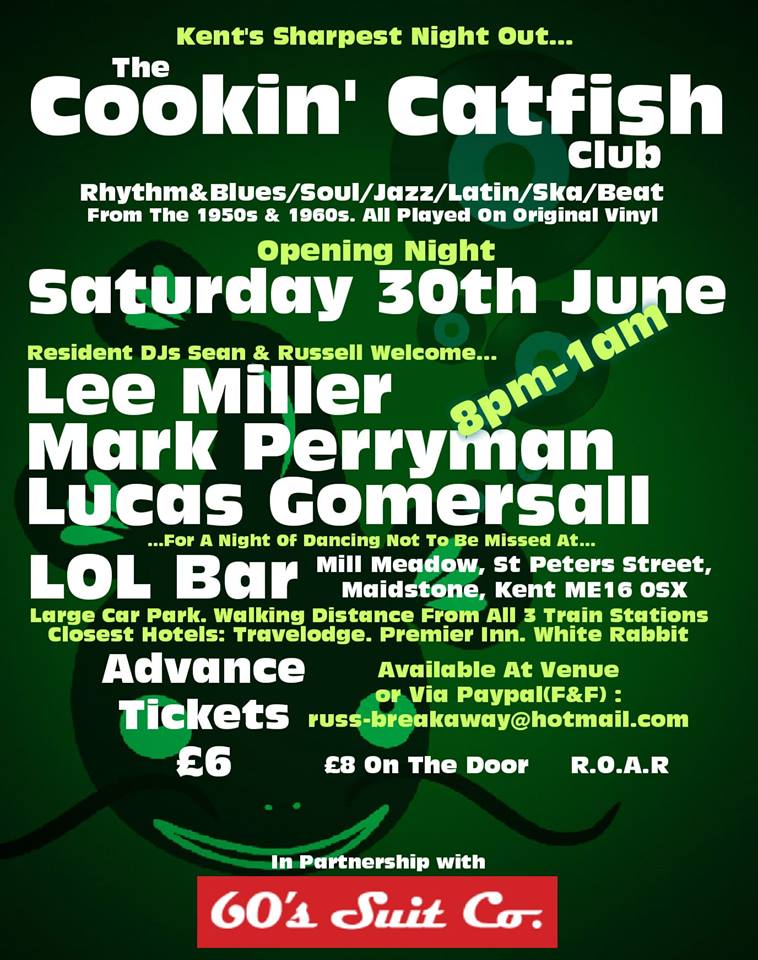 After a good two years of taking too long, we can finally announce the Cookin' Catfish club is officially on for Saturday 30th June. Sean Cregeen & Russell Deal invite you to the County town of Kent for a night of ferocious rhythm & blues and soaring club soul records, all spun on original vinyl. We also love jazz, latin, ska, beat & more, so you can expect a full spectrum of cool sounds from the mid 1950s onward throughout the 1960s played before the dancefloor.
For our opening night we will be joined by some of the sharpest DJs on the modernist/R&B/60s circuits;
Lee Miller makes a welcome return to the Medway basin with his incredible records. Sample the flavours of his Dreamsville sets the week before this already legendary weekender.
They seek him here, they seek him there…The sensational Mark Perryman can be found DJ'ing right here, with us. Expect to wear down your leather soles on the dancefloor with his superb sounds.
The risen star, Lucas Gomersall will bring energy & fire to preceedings. The authentic tunes of A Fast Way Of Living in the West end, brought to you in leafy suburbia.
So what are you waiting for? Get your tickets & join us by the Medway @LOL bar, St Peters Street, Maidstone. Sat 30th June. 8pm until 1am. For a new night out that promises to be a cracker.
Advance tickets are £6, available via paypal(f&f) russ-breakaway@hotmail.com. Or alternatively, in person from Diane at the venue, or from Sean & Russell. Please get in touch for multiple ticket sales as we will happily look at discounts for 10+ purchased together.(Admission will be £8 on the night)
The LOL bar is in a central location, through the railway bridge on the corner of St. Peters Street & Buckland Hill. It has a good sized dancefloor & large car park. Walking distance from all 3 train stations. Closest hotels; Travelodge, Premier Inn & White Rabbit/Innkeepers lodge. We do have word that a festival at Mote park takes place over this weekend so accomodation may be best sorted sooner rather than later if you are planning to stay in Maidstone.
Though we know we're likely to attract a smarter patron, Cookin' Catfish does not have a dress code. We respect people of all styles & walks of life that may like to come & dance to the greatest records of the 20th Century. We would ask that this level of tolerance is respected by all attending.
Hope to see you there. Wear your dancing shoes…
© 2018, Jayne Thomas. All rights reserved.
Please follow and like us: