The Cookin' Catfish Club 6
14th August 2021 @ 7:30 pm

-

15th August 2021 @ 1:00 am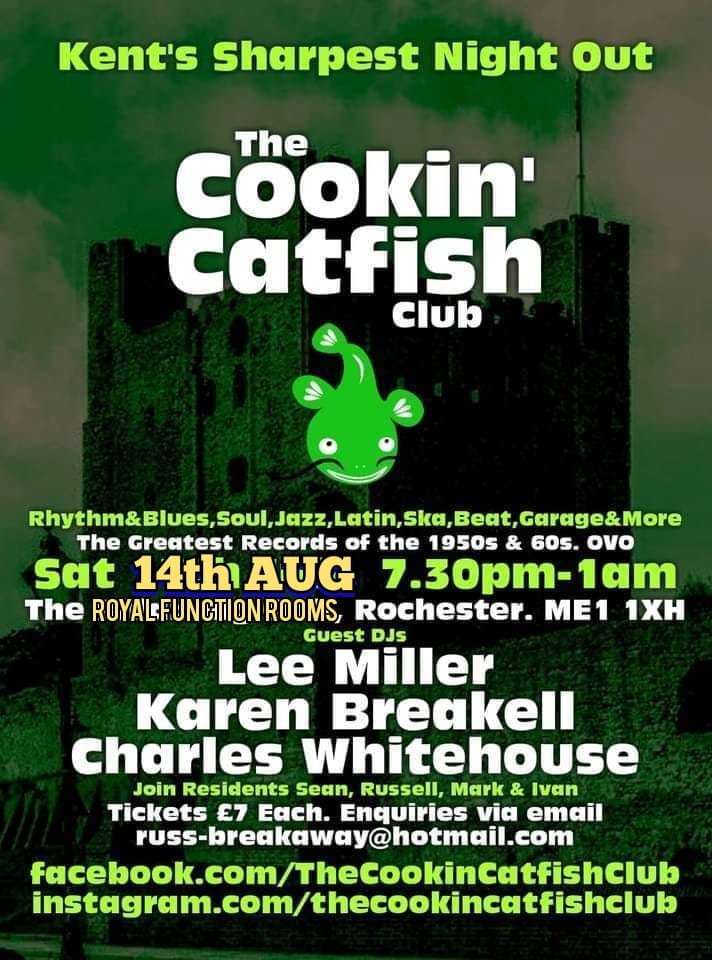 ***Update June 28th***
Well, the inevitable has happened and the Cookin' Catfish club scheduled for Sat July 17th has to be postponed. That's the bad news.
The good news is this event will now take place on Saturday August 14th and due to our usual venue, The Billabong already being taken, we will be moving upstairs to the main ballroom of the Royal function rooms.(Big thanks to Richard of Kent Soul Club for giving us his blessing)
Everyone that bought tickets for July 17th will automatically have their tickets carried over to Aug 14th.
Because upstairs has a larger capacity, the ticket link is now open again. You can purchase tickets at £7 each via paypal, 
https://www.paypal.me/russelldeal1
.
We'll shortly be in contact with everyone on our waiting list that missed out before as there will now be spaces for you.
Should you be unable to make this new date, please get in touch & we'll get your refund sorted ASAP. We hope to see you again at our next night, Sat Nov 6th.
———————–
Kent's sharpest night out, 6th edition.
Our mid-Summer shindig(delayed). Three years on from where it all began.
Ferocious rhythm & blues, soaring club soul. Latin, jazz, ska, beat, garage & more.
The greatest underground club sounds of the 1950s & 1960s spun on original vinyl, infront of the sharpest dancers anywhere in the Medway delta. Saturday 14th August 7.30pm until 1am. At The Royal Function Rooms(main ballroom), Star Hill, Rochester, Kent. ME1 1XH
Joining the usual Catfish selectors, 3 guest DJs guaranteed to keep the dancefloor moving;
The big wheel, the bossman, Lee Miller. He has his weejuns well under our table now & we're happy for them to be there.
The man that will have discovered & broken to the wider scene, many of the records you know & love. Come along & see what he's got up his sleeves.
Check out his mixcloud here
https://www.mixcloud.com/leemiller315080/
West Sussex's Karen Breakell also joins us to spin some tunes on the night. 'Long Tall Karen' has kept dancefloors moving at The Ultra Club Hassocks, Brighton's Grits & Groove, Chills & Fever Shoreham among many others on the South coast. We're honoured she'll be joining us in Rochester this June. Expect rocking R&B from the 50s & 60s alongside more soulful sounds.
Check out her Mixcloud here – 
https://www.mixcloud.com/karen-breakell/
Charles Whitehouse is one of the hottest DJs on the scene today. From keeping the dancefloor moving at The Mousetrap to rocking Brighton seafront at the August bank holiday weekend. He's built a reputation as a fine selector.
Making the short journey from Canterbury, Charles is an overdue guest DJ to grace the decks at Cookin' Catfish.
It promises to be a fantastic night, with records spanning the genres advertised. Come & dance to the tunes you already love alongside those records about to become your new favourites.
The Cookin' Catfish Club naturally attracts very smartly & colourfully dressed people, but we do not enforce any dresscode. All are welcome. Please just be aware of the environment you'll be walking into. We ask all attending to keep your drinks off the dancefloor.
There will be security so if you are fortunate enough to look young, bring ID along with you.
R.O.A.R. Entry by 11 please.
See you on the night…
© 2021, Jayne Thomas. All rights reserved.
Follow me :