The Cookin' Catfish Club – Summer Special
18th June 2022 @ 7:30 pm

-

19th June 2022 @ 1:00 am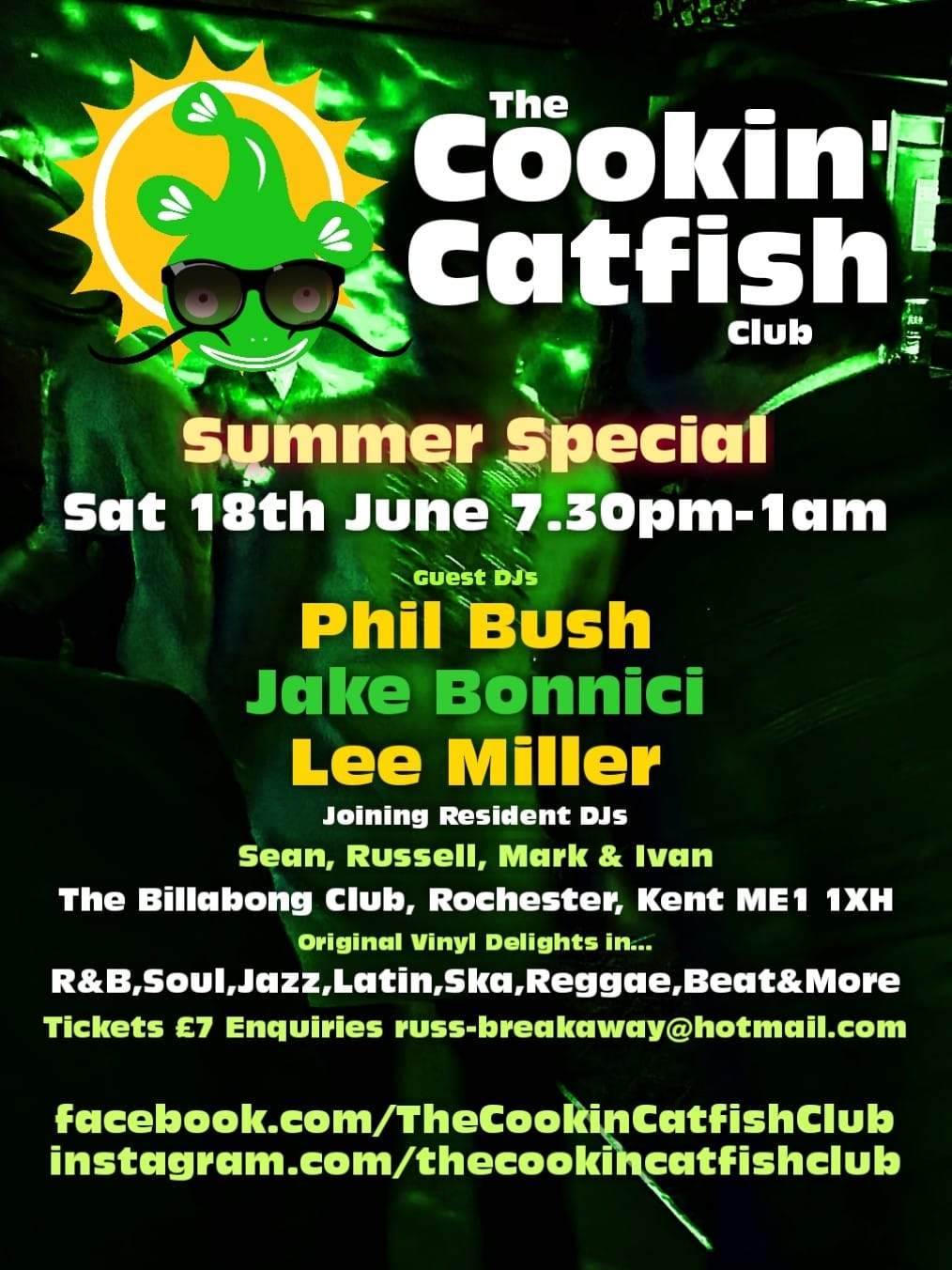 Kent's sharpest night out, 9th edition. A Summer Scorcher!
In our perfectly seedy basement home, The Billabong Club. Part of The Royal Function Rooms, Rochester. ME1 1XH
Ferocious rhythm & blues, soaring club soul. Latin, jazz, ska, reggae, beat, garage & more.
The greatest underground club sounds of the 1950s & 1960s spun on original vinyl, infront of the sharpest dancers anywhere in the Medway delta. Saturday 18th June 7.30pm until 1am.
Joining the usual Catfish selectors for an epic night in Medway, we welcome back to Kent, Mr Phil Bush. Phil is known across the globe for his Sounds & Pressure lo fi, valved sound systems. Along with the original Jamaican records he blasts out on them. Many from Medway's scooter scene will already know him from his time living here. All will be blown away on the night by the sounds he spins, from Jump Blues through to Reggae. If it was popular on those old skool Jamaican sound systems back in the day, Phil will have it in his record box. From his own Sounds & Pressure dances to Scorcher in Birmingham, through The Federal Club in Stoke now down to The Cookin' Catfish – Hold on to your hats guys. We'll have the mic ready for an explosion of sound in Rochester this June. Hopefully Phil will tolerate our modern day, digital sound system for the evening!
Mr Jake Bonnici. Long term CC regular and owner of one of the finest record collections among anybody still fresh-faced enough to be described as Young(!) In the South East. Hosting regular nights in Greenwich & Bromley, Jake has specialised in Jamaican sounds, but is equally at ease spinning Soul, R&B and pretty much every genre from the 20th Century's golden era.
By June, he will probably own an even larger slice of the total number of original 45s in the UK! it's a pleasure to finally have him come along & spin his records.
Check out his mixcloud here, 
https://www.mixcloud.com/jake-bonnici/
Also his weekly radio show on barrelhouse radio, Sock it to 'em JB here, 
https://www.mixcloud.com/BarrelhouseRadio/
Also guesting, of course, The big wheel, the bossman, Lee Miller.
The man that will have discovered & broken to the wider world, many of the records you know & love. Come along & see/hear what he's got up his sleeve.
Check out his mixcloud here
https://www.mixcloud.com/leemiller315080/
It promises to be another fantastic night, with records spanning the genres advertised. Come & dance to the tunes you already love alongside those records about to become your new favourites.
Tickets are £7 each, available through the paypal link on this event, 
https://www.paypal.me/russelldeal1
, via email to, russ-breakaway@hotmail.com.
By messaging our facebook or instagram pages or in person from Russell Deal at any of the events he attends between now & June.
Group discounts have been very popular in the past. If you are coming as a group of 5 or more please get in touch.
Please allow until the end of the day you order tickets before receiving a response confirming your booking. We do have day jobs to suffer!
We're often asked if there will be door sales on the night & the simplest possible answer is yes, so long as we haven't already reached our 120 capacity in advance sales. Our last event in Feb sold out in advance of the doors opening. If you are planning on paying on the door, please check on our event page in the weeks before to keep updated on ticket availability. The best way to guarantee your place is to buy in advance via the above details.
The Cookin' Catfish Club naturally attracts very smartly & colourfully dressed people, but we do not enforce any dresscode. All are welcome. Please just be aware of the environment you'll be walking into. We ask all attending to keep your drinks off the dancefloor.
There will be security so if you are fortunate enough to look young, bring ID along with you.
R.O.A.R. Entry by 11 please.
See you on the night…
© 2022, Jayne Thomas. All rights reserved.
Follow me :