The Pelican R&B Club, Loughborough – Guest DJ's Wayne Napier-Gibbins & Rachelle Piper
5th August 2017 @ 8:00 am

-

6th August 2017 @ 1:00 am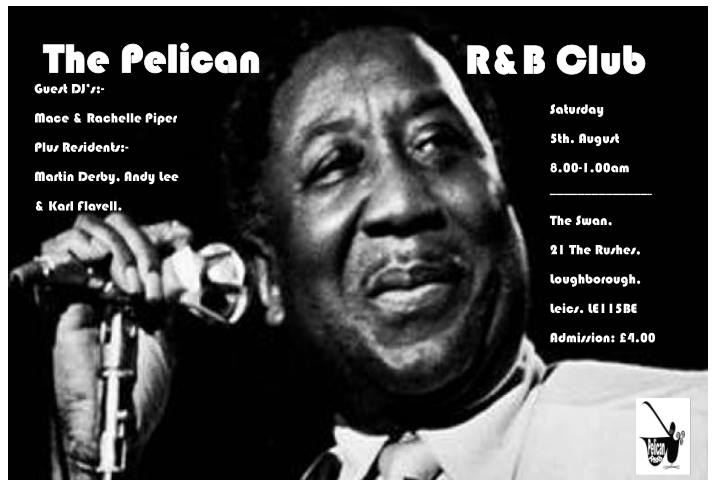 We're back for our third session this year. At 20:00 on Saturday 5th August we will be supplying you with the best in American R&B, 60's soul, dancefloor jazz, Latin and a bit of ska for your dancefloor delight. Those of you who've been before (and we've noticed that we've got a good amount of club regulars these days, who are always nice to see) will know what to expect. To the uninitiated you've really missed out so far. We like to mix it up musically with plenty of new sounds mixed in with the underplayed and dancefloor classics so something there for everyone. Musically we aim for the sort of thing you'd expect to hear at clubs like The Scene or Flamingo for that early 60's mod club vibe.
As well as the quality sounds played, another thing people comment on is the room. Smart, just the right size-not too big, not too small and because of that people mingle and chat with complete strangers. A very friendly vibe as those who've been will tell you and a decent sized dancefloor as well. What's not to like?
Every session it's a different guest and we always pick from the best DJ's currently on the scene. We have them on because they're the best not because of who they know. We've heard them play and liked what we've heard so know that you'll be impressed by them.
We're pleased to welcome Rachelle Piper (who co- runs Loose Caboose in Lewes, Sussex) as our guest for August. Anyone who's heard her play knows that her set is going to be top notch and even those who are dancefloor shy will be struggling to resist the temptation to stay off the floor. These days it's more a case of where she hasn't DJ'd rather than where she has!
Usual house DJ's in the form of Mace (our resident guest if there is such a thing) with Martin Derby, Andy Lee and Karl Flavell all doing their thing adding to the inimitable vibe that is The Pelican.
If it's hot, which is a distinct possibility considering it's August, we'll open the french doors which lead onto the balcony, which is the smoking area, so cooling down is easy.
Accomodationwise there's the Travelodge literally across the road and the Ramada which is a five minute walk away so no problems there. Make sure you book early as (a) it generally works out cheaper (b) they fill up quite quickly. Either way you won't need a taxi as they're both easy walking distance.
Admission is £4 OTD and smart dress is preferred. See you in August for one of the best nights out you'll have this year!
© 2017, Jayne Thomas. All rights reserved.
Please follow and like us: