The Pow Wow Club End of Year All- Dayer!
29th December 2018 @ 3:00 pm

-

30th December 2018 @ 3:00 am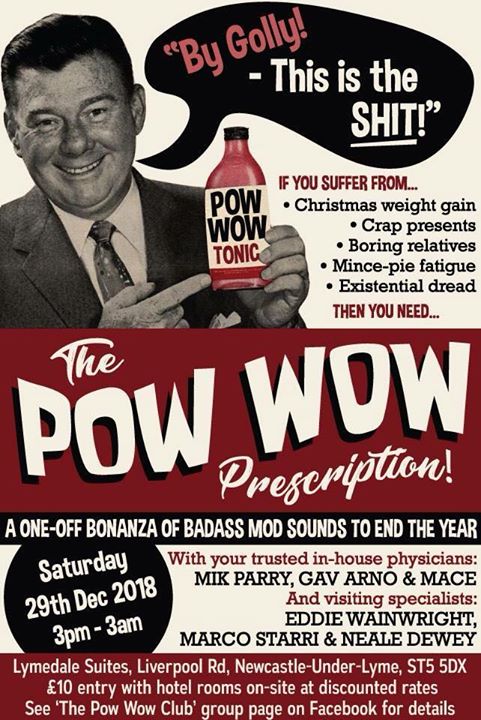 Right, folks; before you all get stuck into the upcoming bank holiday action, here are the details of POW WOW's massive Christmas / New Year party that was mentioned last week:
It's on 29th December – 3.00pm til 3.00am! (that's the Saturday before NYE, which is on a Monday this year – basically killing it off as a good night to go out).
It's at the fantastic Lymedale Suites Aparthotel in Newcastle-Under-Lyme, the same venue hosting the sold-out, or nearly sold-out Federal R&B Weekender in October.
For those who didn't go to Mace's party at this place, it's a great venue with basically no rules and 60 self-catering apartments ON SITE! Oh, how I love partying METRES from my bedroom; don't know about you, but it changes my whole approach to that shit.
**For the dumbfucks, that's Newcastle-UNDER-LYME, not Newcastle-Upon-Tyne! The postcode is ST5 5DX – a Stoke postcode, cos it's near Stoke! Dead accessible but in the middle of nowhere, basically. Perfect for this sort of do**
There are about 50 double or twin rooms on site, which can be booked at a ridiculous discount rate of £40 PER ROOM, by phoning the venue on 0800 368 7634 and quoting 'POW WOW'. You don't need to pay owt, but if you can't come for any reason, PLEASE CANCEL THE BOOKING so that someone less fucking flaky can have your room. There are other cheap hotels close to the venue – details to follow.
We're not doing advance tickets for this one, but we need to know how many are coming due to strictly limited capacity, so like with our Weekender, if you could reserve a place by e-mail to POWWOWCLUB@HOTMAIL.COM, we'd appreciate it. Then just pay on the door.
Priority entry goes to those staying on site, and once that's booked up, we'll get back to anyone else to confirm entry.
Right – that's the boring shit done with; the rest is on the flyer.
I'm sure I don't need to tell you that it'll be the usual badass POW WOW sound, but with added festive spirit.
Sadly, POW WOW's star striker, Callum Simpson can't make this one, but joining Gav, Mace and me behind the decks we've got total legend, Eddie Wainwright, who's been ripping up dancefloors all over these last few years and first POW WOW appearances from one of the coolest cats around, Marco Starri, all the way from Italy, and the heroic Neale Dewey, who's always out on the scene, DJing or not, and always rocks the dance when he plays.
12 hours of top quality mod & r&b POW WOW party sounds, starting at 3 pm. There will be food on, so no need to leave the venue…get bedded in early and take yer fucking medicine!
© 2018, Jayne Thomas. All rights reserved.
Please follow and like us:
www.w3.org/TR/REC-html40/loose.dtd">