The Suit Yourself Modernist Rally / Weekend – Bristol.
27th April 2018 @ 9:00 pm

-

29th April 2018 @ 12:00 am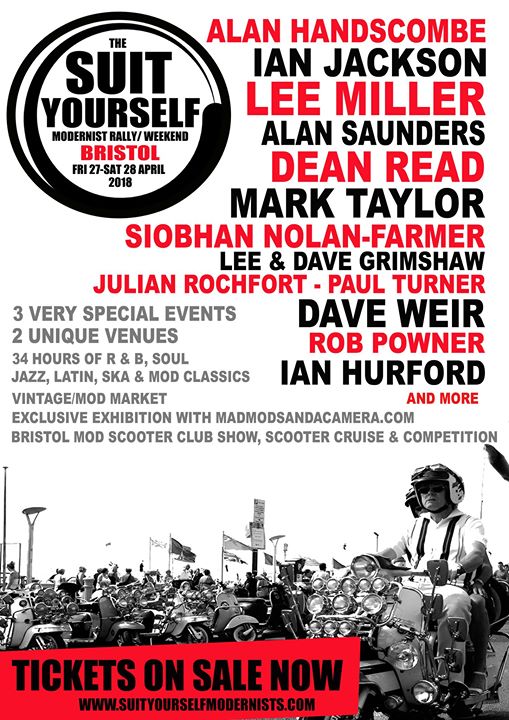 SUIT YOURSELF MODERNIST WEEKEND/RALLY APRIL 27TH/28TH – BRISTOL.
TICKETS >>> www.suityourselfmodernists.com/symc-events
OUR EVENTS PROGRAM FOR THE WHOLE WEEKEND.
Friday Evening 27/04/18
The Boardroom
20 St Nicholas Street.
Bristol
BS1 1UB
9pm – 2am
Dress code – Smart/Casual.
Capacity limited to 150 people.
Ticket Price £5.00 inc booking fee.
Suit Yourself Modernist culture meets madmodsandacamera.com
DJ'S over two floors
Floor 1 – ALAN SAUNDERS – LEE MILLER – ROB POWNER – Triple decking – 9-2am
Floor 2 – JULIAN ROCHFORT – PAUL TURNER – IAN HURFORD – ALAN SAUNDERS – quad decking – 9-2am
Our Friday night extravaganza takes place at the Boardroom, in the old quarter of Bristol, situated as part of the historic Market Chambers the Boardroom is nestled next to the famous St Nicholas market. Spread over two floors we are proud to launch an exclusive association with madmodsandacamera.com. Mad Mods will be taking over both floors of the venue with a HUGE life-size exhibition of its work, covering all the walls with exclusive images of the Mod scene that will be available to buy.
Duncan James, the man behind the lens will be on hand to talk to and a free booklet of unseen work will be available to all attendees. madmodsandacamera will be publishing a hardback book at the end of the year and Duncan will be photographing the whole weekend. The weekend in Bristol sees the launch of a national tour for the Mad Mods brand. Suit Yourself Modernist Culture will be selling exclusive Mad Mods merchandise on the website later this year.
Music – Our handpicked DJ's will be playing the best original vinyl spread over the two floors, music policy for the night is Soul, R&B, Jazz, Blues and Mod classics, this is where the party gets started as we welcome our legendary DJ's and Modernist culture lovers.
Saturday daytime 28/04/18
The Boardroom
Bristol
12pm – 5pm
Dress code – Smart/Casual.
Admission – Free.
SUIT YOURSELF PRESENTS – JOHN SIMONS – A MODERNIST – EXCLUSIVE SOUTH WEST SHOWING.
Suit Yourself modernist culture meets the Bristol Mod scooter club.
Exclusive film showing, Scooter competition and cruise, vintage/Mod market, open decks special.
DJ'S – IAN HURFORD – ALAN SAUNDERS – CRIS DAVIES & guests.
Saturday daytime sees us once again visiting the Boardroom for the weekends free event, kicking off at noon we welcome the legendary Bristol Mod scooter club to the proceedings, this scooter club has been running for over 20 years, it's members ranging from the original Mod scene in the 60's right up to present day, their beautiful show-stopping Vespas and Lambretta scooters are adorned with period chrome features of which the club are proud. The club secretary has been working on a new project that will be revealed on the day.(We've heard it's going to be a bit special.)
As part of this magnificent event, the guys will be holding a scooter competition for best Vespa and Lambretta and will be leading a scooter cruise around the city taking in historical sites of Bristol. This will leave the venue at 3pm – Time to bring out your scooters…
Inside The boardroom, on the upper floor, we will be showing the exclusive premier of John Simons – A Modernist just one day after its London premier! downstairs will be an open deck day supported by the Suit Yourself Modernist DJ's with space for a small vintage/mod market
Music policy – Mod classics.
Saturday Evening 28.04.18
The Jack of Diamonds
46 West street
Bristol
BS20BH
9PM – 4AM
Dress code – Smart dress (NO TRAINERS)
Capacity limited to 300 people.
Ticket Price £12.00 inc booking fee.
THIS IS THE BIG ONE – We pull out all the stops for this, our BIG Saturday night party. We have booked the Jack of Diamonds in what is termed as the old market part of Bristol, this recently refurbished venue has two floors and has retained all it's original sixties styled features, fixtures and fittings including plush bars, comfy chill out areas and huge wing backed seating. Both floors have great dance floors and their own bars. The venue itself is stepped back from the main road making it feel like a private party and we will be showing original scooters (lit up) in the entrance courtesy of the Bristol Mod scooter club.
DJ's for the night include the cream of the international Mod scene and will be playing on both floors. Everything from sixties/Northern soul, R%B, Ska, Jazz, Latin Blues and Mod classics that will be drummed out of the clubs fantastic sound systems until four in the morning.
DJ SET TIMES
ROOM 1
9 -10PM – ALAN SAUNDERS
10 – 11PM – DEAN READ
11 – 12AM – DAVE WEIR
12 – 1AM – MARK TAYLOR
1 – 2AM – IAN JACKSON
2 – 3AM – ALAN HANDSCOMBE
3 – 4AM – LEE MILLER
ROOM 2
9 – 10PM – IAN HURFORD
10 – 12AM – JULIAN ROCHFORT & PAUL TURNER
12 – 1AM – SIOBHAN NOLAN-FARMER
1 – 3AM – LEE & DAVE GRIMSHAW
3 – 4AM – ROB POWNER
This is the ultimate 60's Mod clubbing experience in the heart of Bristol, you will truly feel like you have stepped back in time with this incredible venue. Smart dress only please.
OUR INCREDIBLE WEEKEND DISC SPINNERS.
We are absolutely honoured to welcome the finest DJ's from the international Mod circuit to the weekender. Their individual pedigrees are second to none and some have careers spanning 30 years or more, they have all graced turntables across the land and it's our pleasure to bring them to you for our dancing pleasure, here we give you a bit of brief history of each of them.
ALAN HANDSCOMBE
Alan has been part of the scene for over 30 years, a true DJ's DJ, a musical pioneer that has earned him legendary status.
From London, Alan has DJ'ed internationally and is famous for running the Capitol soul Club and RNB123, he also runs the Kent/Ace appreciation page on Facebook and has his own page on the Suit Yourself website. His knowledge of music makes him the go-to for rare soul collectors and his DJ skills see him booked across the Uk and beyond.
IAN JACKSON
Ian, The Detroit executive is another collector and DJ of incredible soul music, he has held residencies with Londons The shake up, Breaking point and Blow up and has a weekly show on the highly successful Back2back FM radio station.
Ian has been DJing on the Mod scene since the eighties and is part of its fabric and heritage, having been an integral part of the C.C.I (Classic, club international) Ian has helped shape the Mod scene sound it has become today.
LEE MILLER
Lee Miller, all round face and Mr Nice guy, another legendary DJ holding residencies all over the UK and beyond, Lee has been part of the New Untouchables team, he has also had success with his own incredible Dreamsville weekenders in Lowestoft and has plans to launch another weekend in his home City of Leeds later this year. Lee's understanding of the dance floor and how to make it move makes him an obvious choice for our own weekender.
ALAN SAUNDERS
Co-owner and director of Suit Yourself Modernist Culture, Alan has shown on more than one occasion that his skills as a DJ are unrivalled earning him guest spots at the legendary Pow Wow club and Bruges. Alan also runs his own events in his home City, the Mod capitol, Brighton with a sell-out show with R&B rockers Little Barrie under his belt and the forthcoming Graham Day and the Forefathers to look forward to Alan's DJ and live music promoter career is set to explode across the UK.
DEAN READ
Dean is absolutely no stranger to the dance floors of Bristol, co-promoting the incredible Go Go children this institutional club night is celebrating its 10th Birthday this year! He is an integral part of the Bristol music scene and its a pleasure to have him grace the turntables of our weekender, he brings with him a fantastic knowledge of music and history and is a major player across the clubs in the south west.
MARK TAYLOR
When we thought about holding a weekender in Bristol it gave us a chance to invite some of the movers and shakers in Wales and what better way than to have Soul Circle's head honcho Mark Taylor on board. Soul Circle is one of Wales' biggest club nights and attracts DJ's from all over the Modernist world, it's Marks vision and enthusiasm that keeps this night at the forefront of Welsh club culture and deservedly so. Mark has guested at some of the biggest clubs including Heavenly Blocked, Go Go children, Federal Club, Dreamsville, MG Blues and Fabulous Cafe ago do. We welcome the first of our neighbouring countries guests with open arms, along with the second……
…SIOBHAN NOLAN FARMER
Siobhan's love of original Ska music has made her the success she is today, running the highly recognised Tighten Up night in Swansea she has also played at various major Ska events including Skamouth and Modfest and has supported the Neville Staples band. Her ear for fantastic early Ska and Blue beat will keep your feet moving to an altogether different beat, a major event like ours needs a lady like Siobhan to bring a bit of glamour behind the turntables, Siobhan is our second guest DJ from Wales and we are honoured both her and Mark Taylor are coming to play.
LEE AND DAVE GRIMSHAW
If you could write down a list of most recognisable people on the Mod scene, brothers Lee and Dave would be on it, the pair have been part of the scene for years and both are respectable promoters and DJ's in their own right, Dave running the highly successful Club Peel nights and Lee running the ever-present Spinout radio show and Spinout revue events all over the south west, Lee generally recognisable by his deerstalker hats. Together they bring a wealth of fun and amazing tunes to our event, expect the unexpected from the two brothers as they will undoubtedly play real gems from their collections.
DAVE WEIR
Dave is one of the South wests most respected soul DJs, he has played at Soulvation, Oxford soul club, Southampton soul club, Cream Cracker soul club and Under the stars in Cheltenham as well as clubs in and around Bristol, Dave has been part of the local scene for years and is well loved on a national level, it's his great taste in music that keeps him at the top of the list when booking great DJs, and his set at the weekender will undoubtably blow the socks off the dance floor.
JULIAN ROCHFORT & PAUL TURNER
These guys know how to rock a crowd, we last worked with them at the New Untouchables event in Brighton whilst we hosted the Saturday night at Volks in Julian's own words..
"I have been DJing for over 20 years. I have played at nights including Sussed, Shake your hips and the New Untouchables events"
"I have also supported bands as a DJ in both Brixton academy and the Hanover Grand in the past"
Together both Julian and Paul bring a wealth of knowledge from the kaleidoscope of music that is the modernist movement. Their passion for the 45RPM shows through and has been active on the mod scene for over 30 years are really excited to be getting on the decks for Suit Yourself Modernist culture for the Bristol weekender.
ROB POWNER
Rob Powner is a walking talking living legend, his larger than life character has helped him build his Newcastle club night Wang Dang Doodle into a roaring success, Rob can often be found behind a set of turntables, big smile, hands in the air, loving every moment. His love of all things Mod has meant that he has appeared across the UK and we are proud to have him treating us to his party antics as part of our own weekender.
IAN HURFORD
We thought we would save one of the best til last, Mr Ian Hurford truly is a gentleman and an amazing record collector. He like so many of our DJ's has been part of the Modernist movement since the eighties and has collected records ever since, so you can imagine the vast and wonderful collection of gems that he will be playing over the weekend, Ian first graced the decks for us in Brighton whilst we were hosting the August bank holiday in Volks, we quickly realised we had to grab him for our own weekend and were chuffed to bits when he said yes.He is bringing boxes of 45's to spin for our listening pleasure…
Well that's it, time to pack your bags and head to a truly amazing weekend with some truly amazing people in some truly amazing venues looking at truly amazing scooters listening to truly amazing music!, what more could you ask for, tickets are limited so get them quick once they are gone they are gone……
TICKET PRICES
FRIDAY NIGHT @ THE BOARDROOM – £5.00 INC BOOKING FEE
SATURDAY DAY @ THE BOARDROOM – FREE.
SATURDAY NIGHT @ JACK OF DIAMONDS – £12.00 INC BOOKING FEE.
WEEKEND TICKETS – £15.00 INC BOOKING FEE
* Please note both our venues have capacity limits, early purchase of tickets is advisable to avoid disappointment. Please contact us via Facebook if you would like a stall at the Saturday daytime market, stalls cost £25.00 and are limited or if you are interested in DJing as part of the open decks special. Scooter cruise around the city will be dependant on weather.
HOTEL AND TRAVEL INFORMATION – We have two venues, the Friday night and Saturday daytime venue are in the city centre and the Saturday night venue is about 3 miles from the city centre, there are plenty of taxis, we would recommend staying near the city as there is plenty to see and do in Bristol.
Temple Meads train station is the main rail link destination and it sits 3 miles from each venue, again, cheap taxis if needed to the venues.
Driving/scooters – Bristol has great roads leading into it including the M5, M4, M32 with A roads coming in from Bath, Wells, Glastonbury, Gloucester, Portishead, Weston Super Mare and beyond.
© 2018, Jayne Thomas. All rights reserved.