Paul Hallam – The Post Mod Years – The Mid 1980s To The Late 1990s
It's always a pleasure to chat with friends recounting their memories of participating in the Mod scene across the decades.  However it's also equally as pleasant to chat with those friends too of their recollections that were to follow beyond those years.  For many of the old 80s Mods, many of us remember or knew of Paul Hallam in those days now nearly four decades ago. Paul will always be fondly remembered for his dedicated and passionate participation in the London Mod scene.
From his early days of djing at Mod clubs, Sneakers at the The Bush and also the 1980s Mod Rallies, organised by the late Tony Class and the now legendary Hayling Island rallies. Various publications, radio and tv interviews as well as books, feature Paul's vast array of memories of his time recollecting his 80s Mod days. However in this interview Paul & myself decided it would be pleasant to collaborate on this article to chat about his life after Mod.  And what an enjoyable chat it was. Here is part one of Paul's transcript :
In our several chats Paul, your participation in the Mod scene began to decline in 1986, can you tell us why that was?
Paul Hallam :
It was weird. From December 1980 onwards I lived and breathed Mod. I did'nt do it lightly or part time. I have a photo of me on holiday in Malta in August 1982. It was 100 degrees and I'm in a shirt, tie, suit and boots. For me it was 24 hours a day every day of the week. 1986 had some great events. It started with a big event I put on at the Bull in East Sheen. Then some Hayling Islands and then Sneakers moved to the Clarendon which never felt right. Then 79 club in Oxford Street which was better. But I was looking for something else.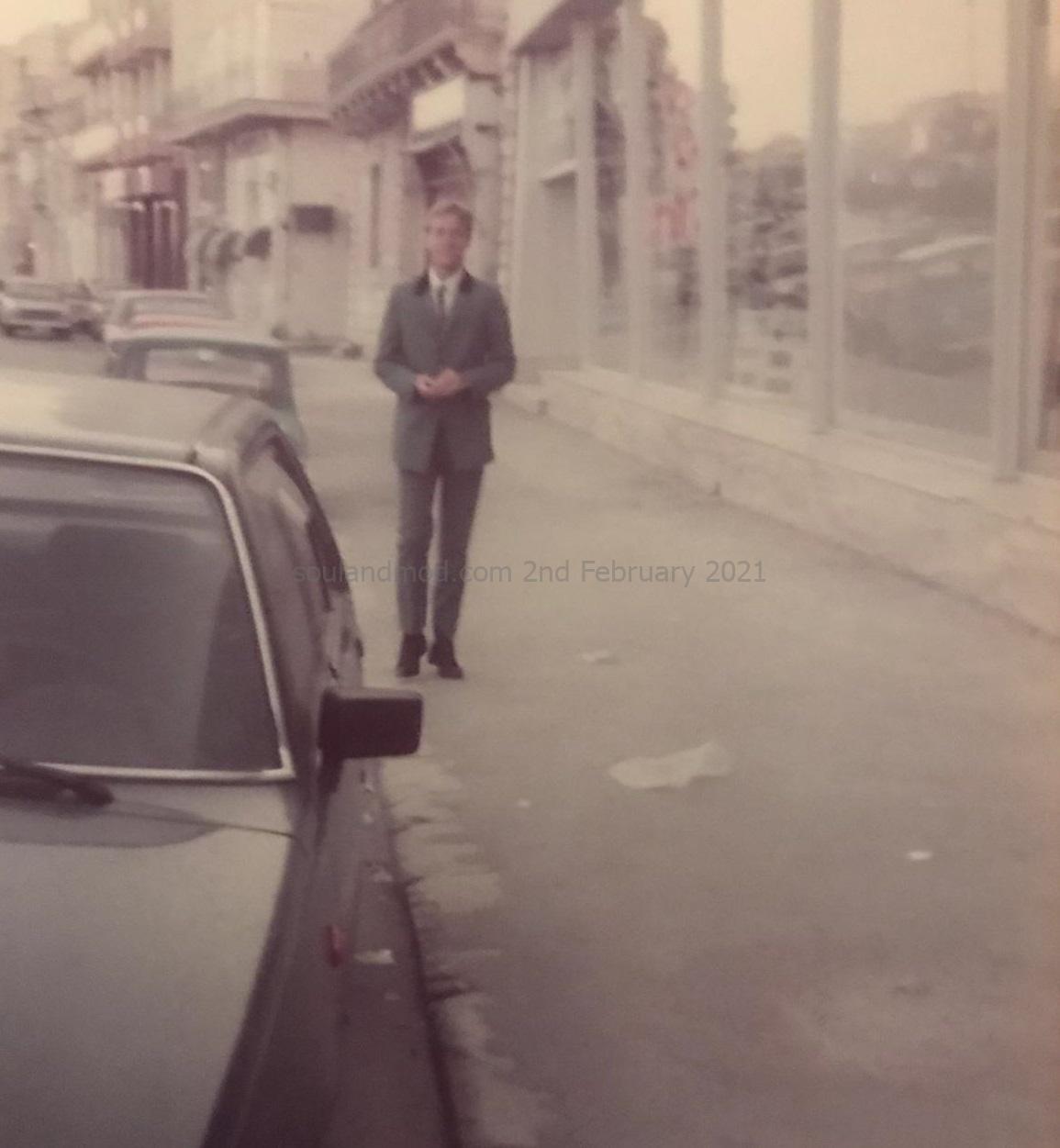 I discovered a Paul Murphy Jazz night around the spring of 86 at the Sol Y Sombre club. It felt illegal and dangerous. It didnt have a bar as such just warm cans of Red Stripe lager. He was playing these mad Jazz tunes and it was like the place had become possessed. Dancing like I'd never seen before – not even by Shirlee. I think the thing that did it for me was the big event at the Hippodrome. Which I did DJ at but I didnt like it. At the time I felt I had more in common with Paul Murphy's punters than watching the Purple Hearts come out of the floor on a big stage (no offence Gary and Simon).
You have previously mentioned that you attended the Paul Murphy Jazz club & the Giles Peterson club in Richmond May 86, what are your memories of those clubs?
Paul Hallam :
Both clubs were non Mod places I went in 86 and both so different. Paul Murphy clubs were dark and felt illegal and very underground. Giles club in Richmond was a pub – the Belvedere Arms which was on Sundays same as Sneakers so I probably only went a few times in 86 when it was bank holidays. It was a very average pub with a very poor sound system. But was packed. Like really packed inside and out. I think a lot of the people that went to shape the club scene in the late 80s early 90s were there at the time.
From late 1986 – 1989, two major life changing events happened in your life, firstly your marriage to Vicki and then was proceeded by the birth of your first daughter Emily and later in 1994, by your second daughter Ani.
Throughout those 2 years, whilst busy with family life, you also set up Voice Your Choice club in Mayfair. Tell us about this club.
Paul Hallam :
I met Vicki in March 1984 at an Eddie Piller Ray Patriotic club night in Piccadilly. We married in June 87 – and that was a big old party.
Emily came along in June 89 and Ani 94. I was still young and could go out and party and look after the kids. I do remember doing a gig at the 100 club – Vault of Vibes night with Danny DC and Dave Edwards. The 100 men played and afterwards we went over to the St Moritz to watch them play. Mick Avory came along to watch. The St Moritz is tiny and the 100 men had bout 100 members. They took up half the club. And I still got back in time for the 2am bottle feed – which worked well as Gary Crowley was presenting a TV show called The Beat which was shown at that time. So night out. Feed baby. Watch Crowley. Perfect. Then up at 7am for work!
Voice Your Choice (a bit like Sneakers) is remembered really fondly. I think we did 6 of them? It was in a posh wine bar in Mayfair – inbetween art galleries and Ferrari dealers.
It was a bit like – what do we do now that we have stopped being mods but havent really?!? I just wanted to play Latin and more Latin. Ed (Piller) was just starting Acid Jazz so was playing things going in that direction – this was first time I ever heard Terry Callier I Don't Want To See Myself – and I'm not sure what the others played. Late 60s early 70s funk I think. John Cook the graphic designer *I think he did a Pulp album cover) was involved so we had really good flyers!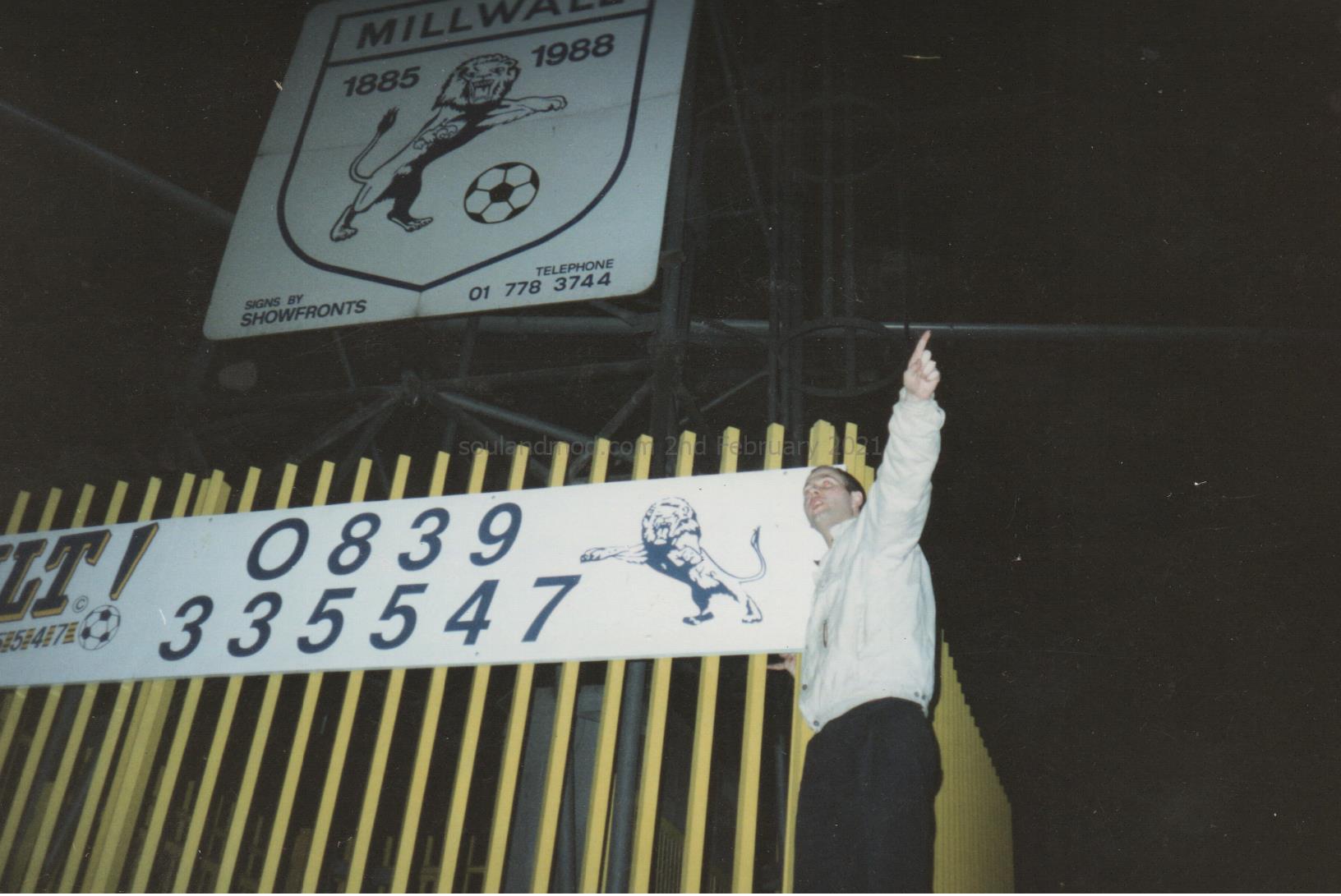 Around this time Acid House was taking off big time, what are your earliest recollections of being introduced to this scene?
Paul Hallam :
Like everything in my life I was late to the party. Big Jason who had worked for Tony Class, was a doorman at this new club in Southwark called Shoom. He used to invite me down and I'd say "Nah its OK". Not interested in all that flashing light nonsense. Gutted of Cobham…. After mod I was a bit lost. What to do on a Saturday afternoon. So I started going to Millwall – which I did a LOT for quite a few years. 30 games home and away – even went to Barnsley once!
Then one Saturday night I was supposed to go into London to see some Jazz/Rnb band can't remember who. But it was really foggy. An old mate of mine Kevin Jay had given me some magic mushrooms the week before. So I said to my friends. We cant go out in this weather so lets stay in and take these. And it was an amazing experience. I would stay in and do mushrooms quite a lot between Autumn 87 'til Spring 88 when I first took Acid.
Tell us a little more of your personals recollections of  the Acid House scene.
Paul Hallam :
Going from Mushrooms to Acid is like going from a lager Shandy to Absinth. It was insane. It was fun. Life changing. Terrifying and insane all at the same time. But I was inspired and intrigued and Acid became a lifestyle choice. I went along to a Giles Peterson event at Lauderdale House in Archway. Took Acid spent bout 10 minutes in the club and spent the rest of the time in the gardens of the venue discovering the meaning of life and looking at the bright lights of London in the distance.
That Summer 1988 – Shirlee (Richard Early) and Fiona got married and I went on their honeymoon to a Spanish Island. When I got back the world was talking ACEEEEEED. Acid house had arrived and I at first was quite excited as I thought it would be like going to a Merry Pranksters party of the mid 60s rather than pumping techno. I went to my first House club in early 1990 and took my first E. I soon tired of House and E's and would rather let Vicki go out and I'd stay in and look after sometimes 5 kids while the parents went clubbing.
It was around this period you also worked at the 100 club initially standing in for Ady Croasdell for the Jazz night. What were some of your memories of djing there and also some of the memorable tracks you played?
Paul Hallam :
Ady Croasdell was – and still is – a bit hero of mine. So much knowledge and so bloody humble. I was minding my own business playing with a very young Emily in the autumn of 1989 – when the home phone went – remember home phones – and it was Ady. He said he was doing Friday night Jazz clubs at the 100 club and he could'nt do it for a few weeks. Would I mind standing in. So I did.
Then for a while I worked with him on the Fridays. Then he wanted every other week off so I did it on my own or with a friend. I think Dean Rudland, Guy Joseph, Dave Edwards and Richard Early all helped me with it. That went on from late 89 through to early 97. That's a lot of times. I also would be asked to DJ on some other nights of the week. Here I played records along most of the RnB/Jazz bands of the era plus a few legends like Jimmy Rogers and George Melly. I must had DJ'd nearly 400 times at the 100 club in the 1990s.
Tell us about your involvement with local politics and the Labour Party in the early 1990s?
Paul Hallam :
I'd always been left wing leaning. I remember as a child my sister moved house and the person moving in dropped some of their books off and amongst them was a copy of Marx. I asked what that was and I was told it was this strange political belief where everybody was equal and the state owned everything. Aged 7 I thought that sounded great. I was a big fan of Citizen Smith as the 70s moved on – without realising the irony of it. Then by the time I got into the Beatles and late 60s Lennon I was REALLY left wing. I even joined the Young Communist League for a year .
I was always a Labour supporter during the whole mod years. Then when I moved to Cobham my next door neighbour Renos (now the local vicar) and I got talking and he said I should go to a local party meeting. I thought we would be discussing how to arm the workers and overthrow John Major's Tory government but we didn't. We talked about draining local ponds and whether Waitrose should be allowed to build a bigger store. The average age was ancient. But they were kind people and asked me if I wanted to stand for local council – which I did. I put so much effort (Dean Rudland's dad was my campaign manager) into it and was rewarded with less than 120 votes – 17% of the vote.
Tell us about your memories at the Labour Party Conference in Blackpool in 1992.
Paul Hallam :
I stood again 2 years later and this time got nearly 40% of the vote (which I think is the highest Labour vote ever in Cobham)! Shortly after my 1992 election drubbing I was invited too the local area. I was invited along to the local area party meeting. I think they asked who wanted to go to the party conference as the representative. Nobody put their hand up so Renos suggested me. And that was it. 7 days in Blackpool in late September 1992. I had NO idea what I was doing or supposed to do.
They give you a thing to put forward – a motion called a composite – and on the Saturday I went to a church hall in Blackpool to put mine forward. I was told I wouldn't get to speak about it. Then on the Monday I opened the programme and there I was Paul Hallam Esher CLP 9.15 Thursday morning. Tony Blair was my warm up act and I was followed by Dennis Skinner and Arthur Scargill. I've appeared with worse line ups in my life.
Paul Hallam Speaking at The Labour Party Conference, 1992
Mar 23, 2016
In 1993 I know that you were involved in the design and production of the infamous Small Faces lead figures with Terry Rawlings and model maker George Doswell. How did you become involved in this project?
Paul Hallam :
In the 90s I worked in a typesetters/design studio in Surbiton. George Doswell was our some times proof reader. His passion was model lead figures – marching bands of the late 19th century being his speciality. I must have mentioned this to Terry at the time (we were involved in loads of things back then me and him from T-shirts to artwork for album covers) and he suggested we did some music themed ones. So we did. The first set went to Kenny Jones who drove down to George's for the presentation. Paul Weller had a set which he used on the cover of Stanley Road. We also did the Monkees and Brian Jones.
I did a separate range of TT motorcycle riders with my dad – Geoff Duke and Mike Hailwood I think. I kind of forget all about the models till a few years ago when social media was full of people talking about them. The Small Faces ones go for over 1k now, so I believe. I've got none of them. A broken Kenny Jones figure and Brian Jones with no guitar or head!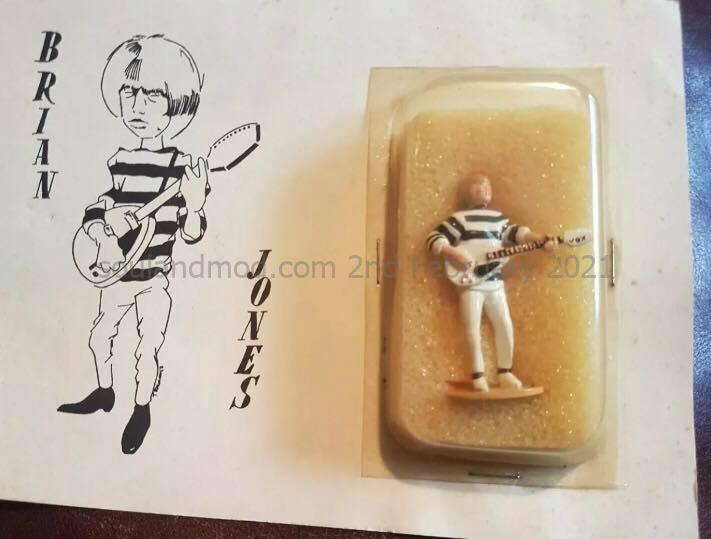 In 1994 you began the Vault of Vibes Thursday night clubs at the 100 club with Dave Edwards and Danny DC. What was reason for the conception of this club and also can you please discuss the type of music that was played?
Paul Hallam :
Although I'd been busy doing stuff in the early 90s a lot of the bands passed me by. One night I was invited to Blow Up in Camden by Bob Morris I think. There was a huge queue and nobody could get in. Then I found a back door open so sneaked in. I loved it. It was like being 16 again. Andy Lewis was the main DJ and he would play Park Life by Blur – turn down the sound and the whole place would erupt and sign the chorus.
I loved it and went back quite a few times. Me DDC and Dave must have thought we could do something similar but more band focussed at the 100 club. I'm not sure how we came up with the idea? I think the first band we put on were ska legends The 100 Men featuring future Babyshambles member Mik Whitnall. I reckon we did one a month then for the next 3 years?
You put on Rico at 100 club in 1995, one of the first Ska musicians famously known for working with Prince Buster, The Specials and Jools Holland, to name a few. What are some of your fondest memories of that time?
Paul Hallam :
Rico was amazing. DDC had seen him play in a wine bar in Brixton and got his phone number. This was about a week before Rico was snapped up by Weller and on the Jools Holland show. I think the other finest moments were putting on the 20th anniversary of the 1976 Punk Festival – with Mark Perry. Bands on were Subway Sect, ATV, Luger Luger and The Buzzcocks. That was a big deal for me.  Also the Chords first gig back together happened on a VoV night in the summer of 1996. I think a LOT of records were broken that night. Faces appeared that had disappeared at the tale end of 79. It was a hot August evening made hotter by 500 or so sweaty fans crammed into the venue. The bar ran out of beer. Some amazing times.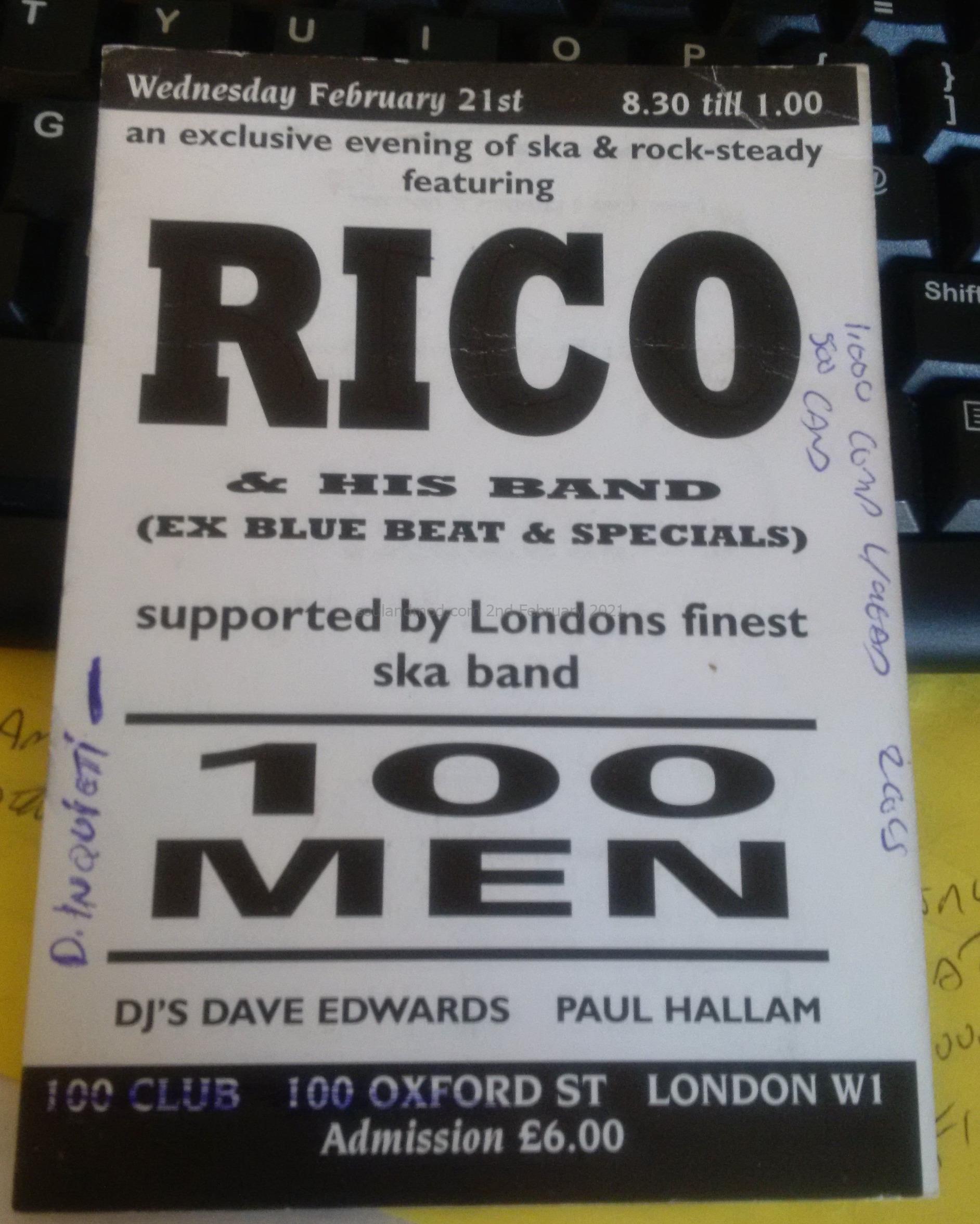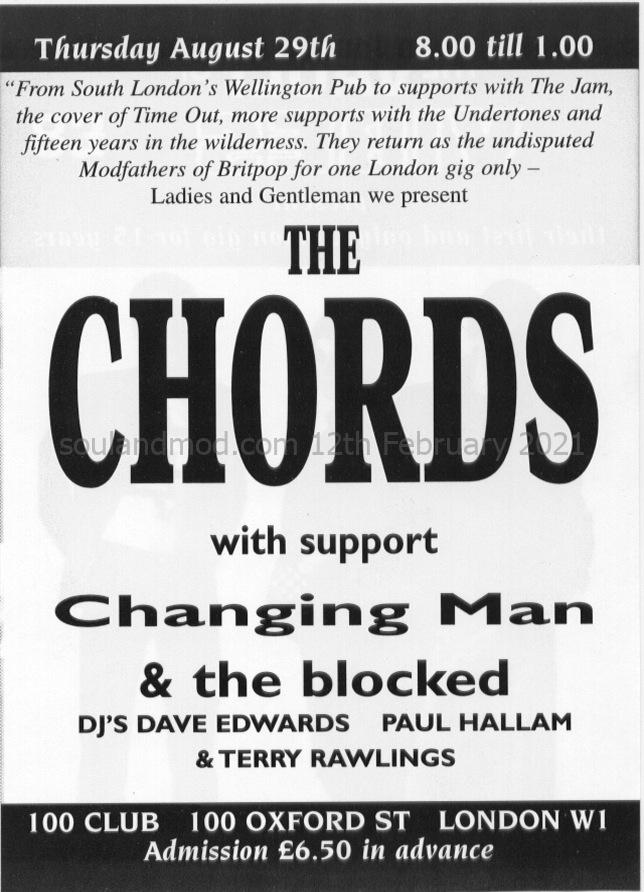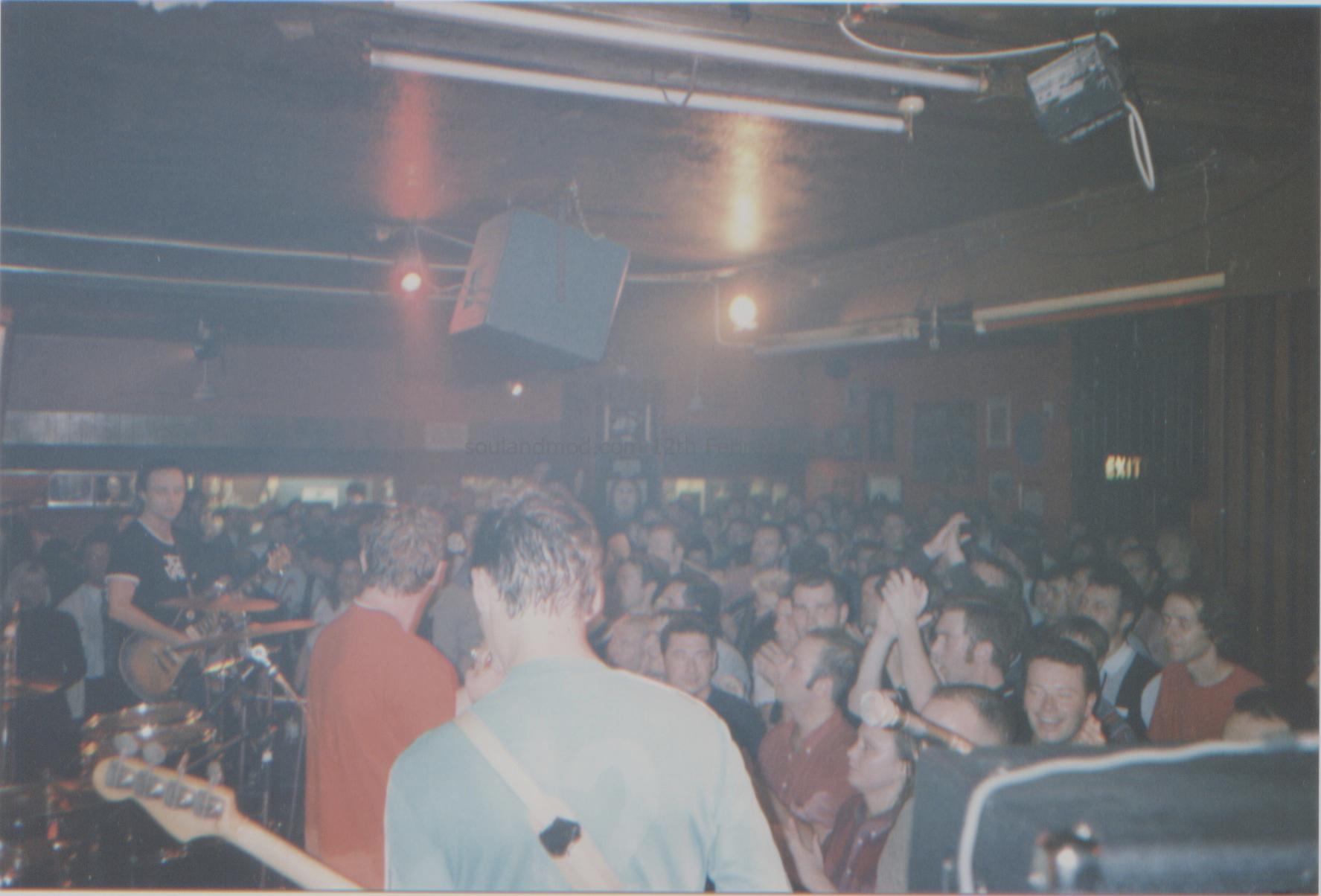 You began a Friday night residency at the 100 club, Club Popcorn. How long did this run for, and what Brit-pop Power pop bands were involved?
Paul Hallam :
Popcorn was really a continuation of the Vault of Vibes adding my brother in law Kevin Roche to the team, but on Fridays and every week not every month. I think it was around 18 months in total. Some Fridays were dire but some were up there with the best memories of the 90s. A band called Weaver from Woking played and bought 2 coach loads of fans and one of them was a certain Paul Weller. Another band that were really cool and underrated were Ruth who went on to become Acqualung. I remember the lead singer Matt Hales turning up and seeing the Grand Piano and asking if he could borrow my phone. He rang up loads of his mates saying you need to be at this gig they have a grand piano and I'm gonna play it.
Other stand out Popcorn bands were The Adventures of Parsley, Lennie Beige and the Fickle Hand Of Fate, who sometimes featured a little known Robbie Williams, The Kynd, Speedy and so many others. Mark Lamarr DJ'd quite a few times with us.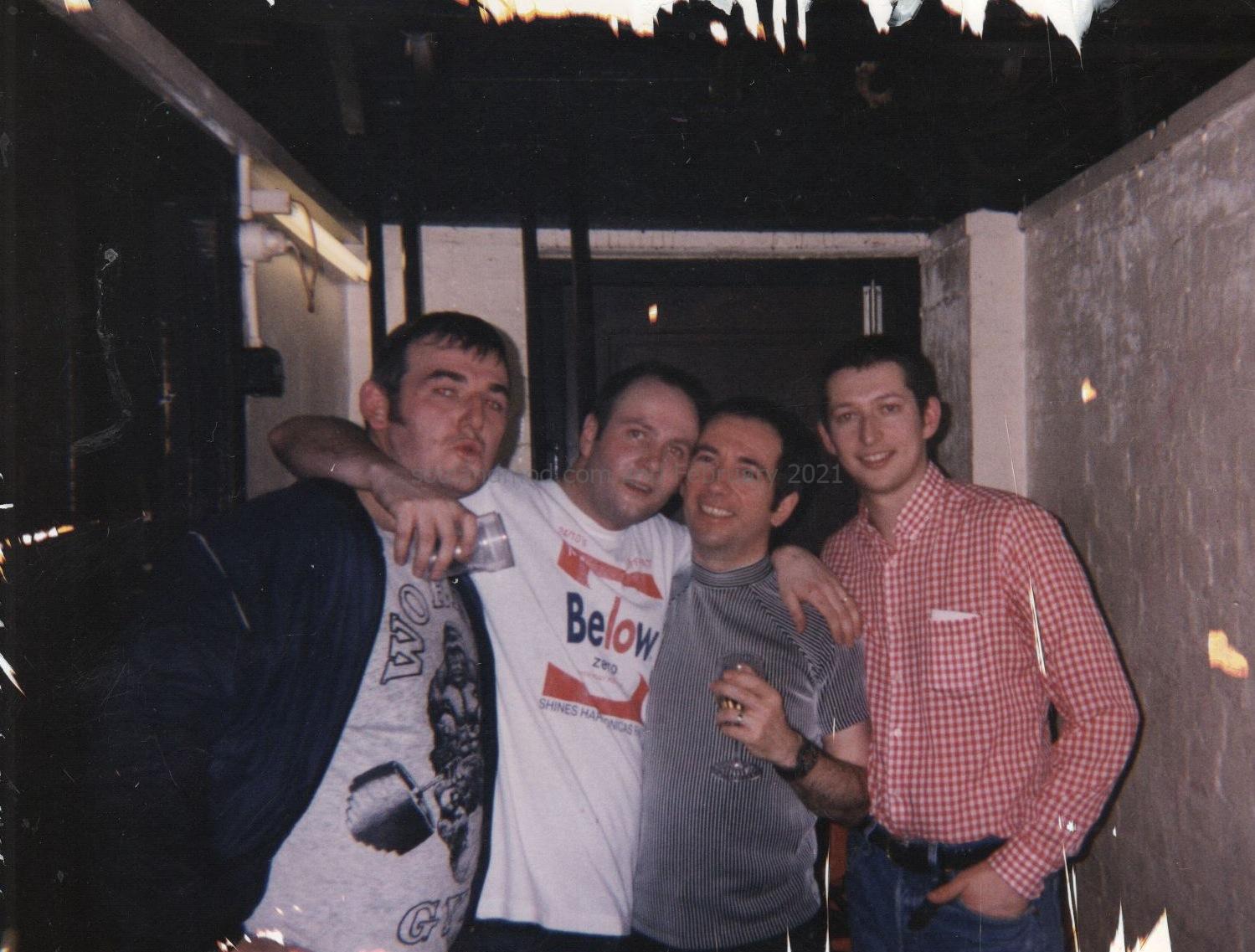 Tell us little about band management company La Fabrica and Club Popcorn.
Paul Hallam :
I've always wanted to do new things. And I've done lots of them – and probably most of them not very well – Quality not quantity Hallam. But I always wanted to manage a band. When I was 18 I saw the Alljacks an RnB band from Hornchurch. Ed was looking after Fast Eddie so I thought I'd give it a go. I did as good as I could for them back then. Few gigs at the Bush. I got them to play at the Bournemouth Mod Rally 84 and the IOW Scooter Rally same year. I think I got them a bit of interest from some minor labels but I was a teenager playing at it.
In the 90s I was putting on a LOT of gigs at the 100 club and a bit more worldly wise – not that much but a bit – so I set up a band management company La Fabrica (I was REALLY obsessed with Andy Warhol at this point) – with Dave Edwards and Dee. We had a few bands that we represented. Coloryde. Vals Basement. Cuban Heals and former Makin Time singer Syds new band The Upper Fifth. Promoting at the 100 club made this job a bit easier as we could insist our bands played more often than others.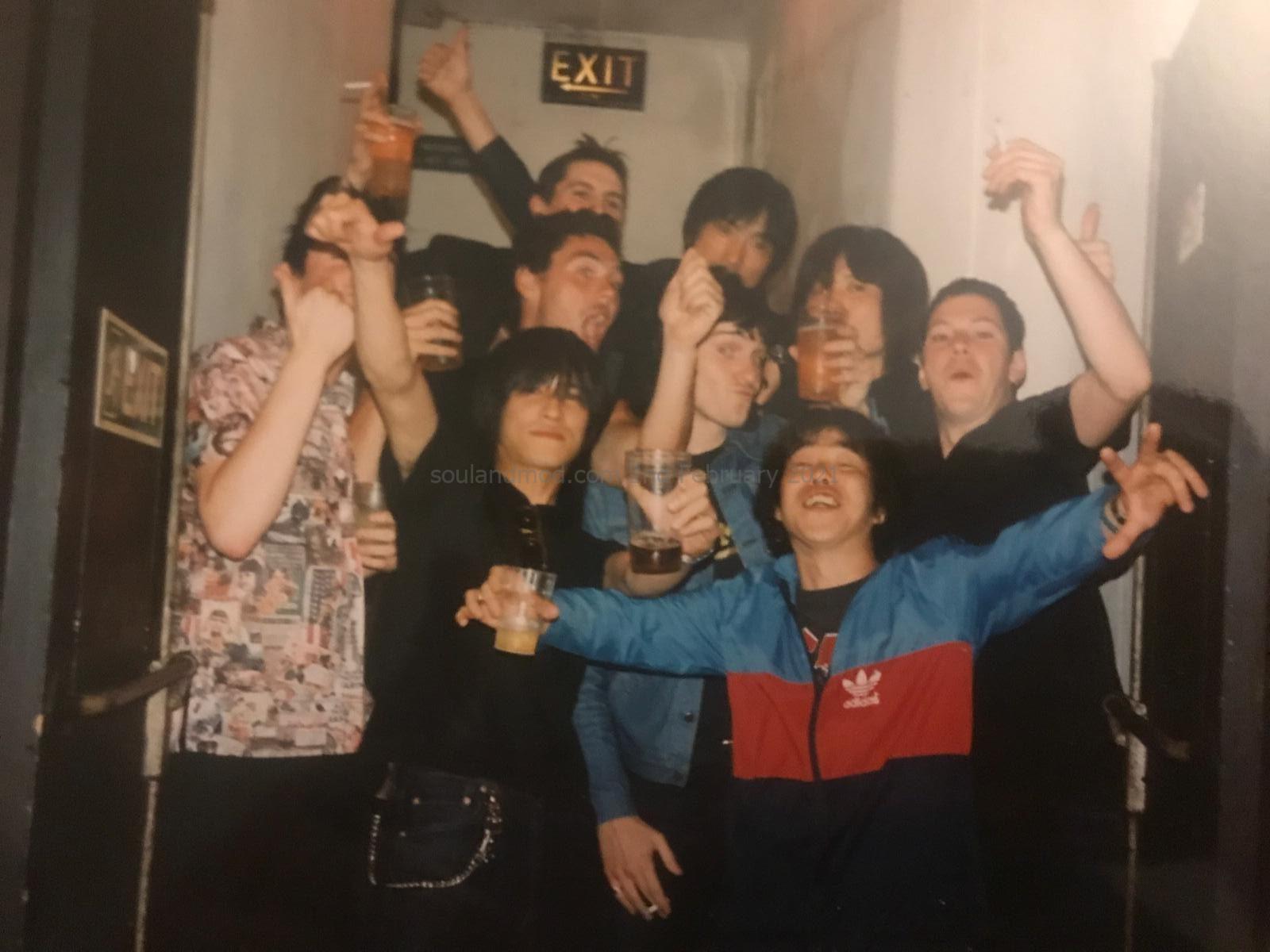 When Popcorn stopped at the 100 club in late Spring of 1998 we decided to take the show on the road so we did this thing called The Chip Shop Tour. Where we would DJ. Our bands would play and at each venue we would ask a local band to play.
Tell us about the night that Muse was the supporting act at Exmouth Pavilion when you took Club Popcorn on a UK tour in 1998.
Paul Hallam :
The first gig of the tour was Exmouth Pavilion. A massive Victorian summer palace that was used to feature Little and Large and the Wurzels.
We had an agent called Steve Suckling who had booked the venues and the local bands. I turned up before he did and went to the Pavilion. We went back stage and there were this very very polite and group of young lads sitting in the big dressing room. They introduced themselves and I said – with my tongue VERY firmly in my cheek. Lads I know your local BUT I'm gonna have to ask you to leave the BIG dressing room and go get ready in the small one – which was still 3 times the size of the dressing room at the 100 club.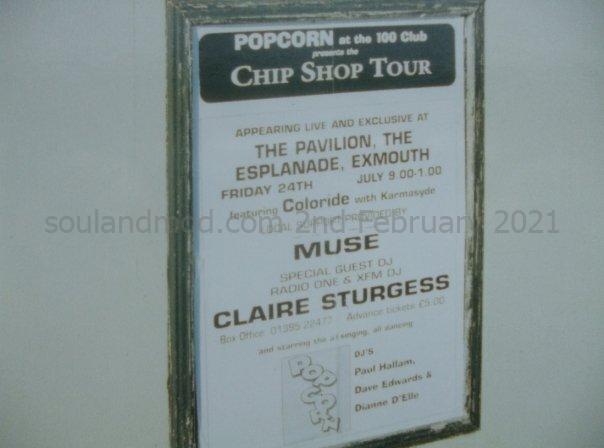 They had no problem with this and as they got there stuff and went next door I asked – "sorry Lads what's your name" – MUSE they said.
I remember watching them and then going outside where one of them apologised for not bringing more fans but explained that Exmouth was the wrong side of the bay to where they lived – Teignmouth he even showed me his mum's house across the bay – but it was a 20 plus mile car ride and most of their fans wouldn't travel that far. He also asked me "do you think we sound a bit too much like Radiohead. I hope not".
Not sure what happened to them. Nice lads. Hope their fans did eventually travel to see them play….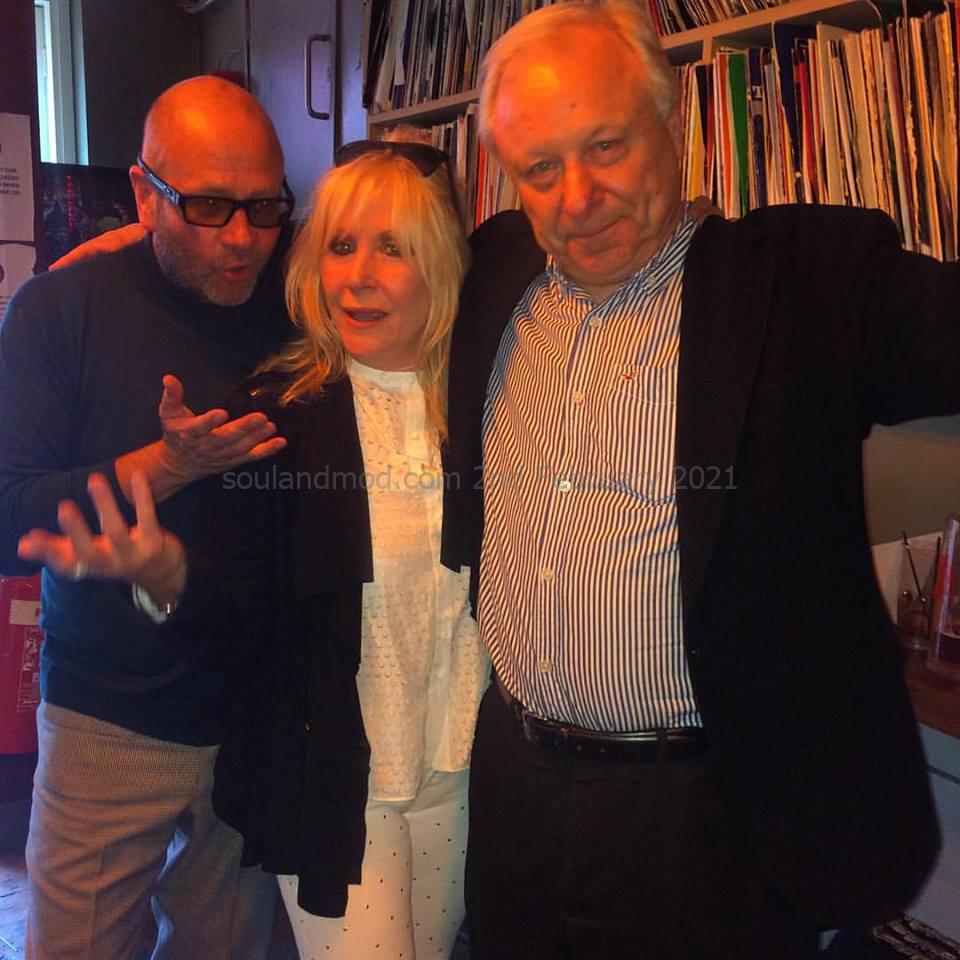 © 2021, Jayne Thomas. All rights reserved.
Follow me :