In the mid 1980s, whilst at school, I discovered a genre of literature. This was exclusive to those books penned by a collection of authors known as the "Angry Young Men".  In addition with thanks to further encouragement shown by Mr Thompson (my old English Literature teacher), I was to become an avid collector and reader of Kitchen Sink Realism books.
For over thirty years it's become a labour of love of mine to source many of these out of print social realism / Kitchen Sink Realism books. The first book I read was Stan Barstow's A Kind Of Loving at the age of14. In October 1985, my interest was to further ignite. The novel to film adaption of Room At The Top by John Braine was to be broadcast on tv.
It's since this day that my obsession with reading this genre of books continues. This incidentally remains to date, my favourite all time novel and film. For over three decades, my love of these books follows me into my late 40s. In conclusion it simply has become a long term (if not a life long) love affair of mine!
The Appeal Of Kitchen Sink Realism Books
What's the appeal for my obsession of Kitchen Sink Realism books and drama? If I am to be totally honest and first of all, this probably stems from where I grew up. My origins began in a predominately working class area of the North East of England. Some of these books which were later to become film adaptations are set in Yorkshire and Lancashire. Many of these localities I know well or are at least familiar with. Because of this, these books give me a sense of nostalgia every time I visit them.
Also equally coupled with the fact, is when embarking on this literature, I was heavily influenced by many aspects of the 1960s. Which still continues to this date. The reason being that I was a Mod girl in the 1980s.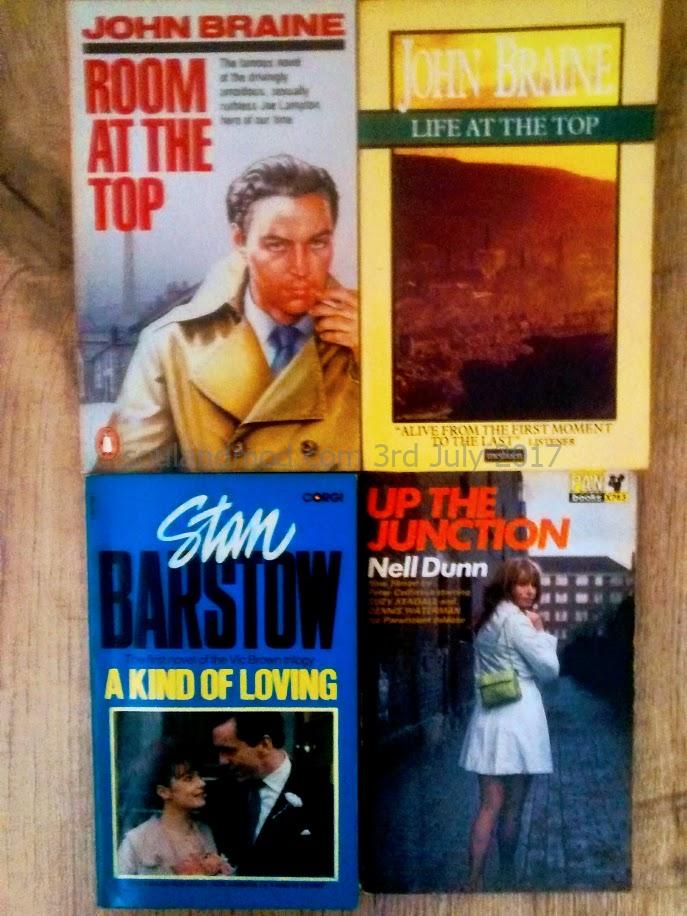 The Mod subculture drawing parallels, I feel, with some of the characters that we go onto meet within this literature. The drive of these characters to have the ability to adapt, evolve and who refuse to conform to what many portray as the norm. To express themselves in a way which they feel comfortable.
However whilst these are the contributing factors of the attraction to being an avid collector and reader of Kitchen Sink Realism literature, they are not the main stand alone factor. The appeal for me personally, also stems from being able to understand, relate and empathise with the situations which many of the characters face within each book.
Social Factors
The common denominator each and everyone of these novels and plays has, is that they are perfectly indicative of a variety of the social situations that the British working classes were met with in post-war Britain. This is regardless of their location setting.
Each story has it's own unique individual undertone. Each story also combining the grittiness and rawness in addressing important social every day factors. Factors such as class distinction, extra marital affairs, race relations and alcoholism. In addition homelessness, homosexuality, abortion and unwanted pregnancy.
Many of these characters, I feel I personally almost know. In addition also some, I cannot help but admire. Purely because how they deal with their individual situations. Ranging from social pressure and poverty to the sacrificing of long term happiness to gain financial stability and success.
Especially relevant of all these books and their exclusivity is how these characters adapt and deal with these social hardships as a whole. But most importantly in how they show strength of character and will battle on regardless, despite whatever life continues to throw at them.
Kitchen Sink Realism Authors
Whilst not exhaustive, the following list of some of my favourite authors and playwrights, are those whose work I will concentrate on in future posts.
Male authors and playwrighrs:
Alan Sillitoe
Barry Hines
Bill Naughton
David Storey
ER Braithwaite
Keith Waterhouse
John Osborne
John Braine
Stan Barstow
Female authors
Gillian Freeman
Lynne Reid Banks
Nell Dunn
Shelagh Delaney
© 2017 – 2018, Jayne Thomas. All rights reserved.
Follow me :