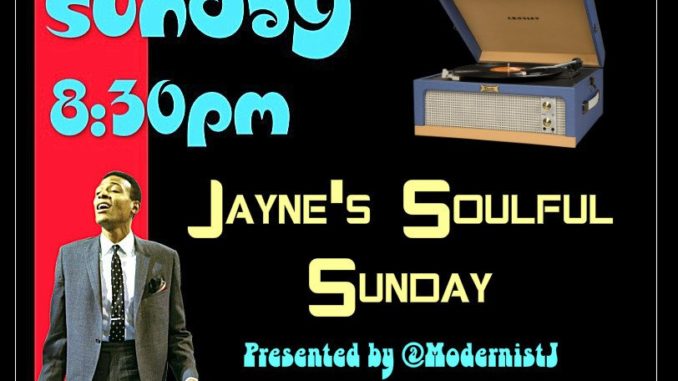 When I opened an account on Twitter in 2014 I was never to anticipate that four years later down the line, I would connect with so many people. Some of which have an admirable passion for 60s Soul & early & 60s R&B. As a result, over those four years, myself along with others, continue to share & discuss these genres of music. Some classics, some rarities and some that are new discoveries. Consequently this has resulted in the forming of friendships, sharing of laughs, as well as a few tears along the way.
The common denominator bringing us all together is music. Once of those collectives was the Fusion family. Sadly the shows are no more, as of 18th November 2018. Therefore because of this I have chosen to write this article to make those not aware, that these uploads are still available for those who never caught them the first time.
The Fusion Family – Broadcasts, Showreels & Mixcloud
The idea for Fusion was conceived by Mick Collins. The Fusion family were a group of like-minded individuals that came together on Sunday evenings at 8.30 pm – 9.30 pm on Mixlr. A show where we individually choose a set of about 20 tracks which are then broadcast. The majority of these songs covering music genres from the 1960s. Catch up shows are still available here on Solid Fusion Showreel and more recent shows are also available on Solid Fusion Radio's Mixcloud. These include those from Paul Orwell, Monkey, Katy T, Sime, Mick, Lee, Zyd, Jane and Jason.
Whilst I was a late comer to sharing my music, I was fortunate to broadcast two sets entitled "Jayne's Soulful Sundays" One broadcast on the 22nd July 2018, the second on 14th October 2018. My choices of songs based on not only some of my favourite tracks however additionally those that remind me of various friends & family. Likewise also, the events and the DJ's that have introduced me to some of these various tracks.
Fusion Radio
Mick Collins the founder of Fusion Radio, gave myself and so many of us the opportunity to share some very special music. I'd like to add that through Mick's conception and idea for Fusion Radio, he created something that was very unique and so very special.
Furthermore Mick was the catalyst that connected us with like minded people and from this friendships were formed. Hopefully some that will that last a lifetime. Music is there to be shared. It brings many of us joy and happiness. In my opinion, if anyone has the ability to connect like minded people with music then that's a very special human trait to have. Mick way and beyond contributed to all this and whilst Fusion has now ended, he has left behind a lovely legacy.
Additionally, Simon Ibbotson of Solid Front Radio carried out his behind the scenes hard work to enable our broadcasts to be heard. Simon, as with others has an admirable passion for the sharing of music and has always, along with Mick and all the Fusion Family, displayed encouragement and support. For this I would like to thank them all.
The People Who Introduced Me To Or Influenced My Song Choices
I would also like to add a special thanks to those who have introduced & influenced my choice of songs for my broadcasts: Tony Beesley, Sharon Burns, Rob Cox, John Crawford, Mark Crew, Caroline Dann, Glenn Goodwin, Paul Hallam, Alan Handscombe-McGrath, Bill Kealy, Ian Jackson, Jamie McGrane, Lee Parsons, Eve Pearce, Rachelle Piper, Em Price, Mark Raison, Sharon Tyler & Squeak. And my Mam of course who helped me whittle down my second set list. 🙂
Below are the Mixcloud uploads of my shows & my set lists.
22nd July 2018 – Jayne's Soulful Sunday

by

Solid Fusion Radio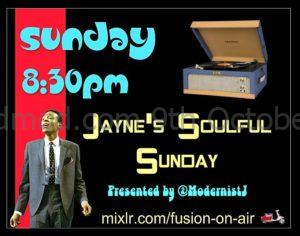 The Dynamics – Misery
Chuck Jackson – Hand It Over
Patti Austin – Someone's Gonna Cry
Dusty Springfield – You Don't Have To Say You Love Me
The Halos – Just Keep On Loving Me
Little Flint – Pain
Soul Brothers Six – I'll Be Loving You
Little Herman – Keep On Walking
Brenda Holloway – I'm Still Loving You
The Fabulous Peps – With These Eyes
Etta James & Sugar Pie De Santo – Do I Make Myself Clear
Sam Cooke – Bring It On Home To Me
Baby Washington – Let Love Go By
The Tams – Be Young, Be Foolish Be Happy
Ben E King – I Can't Break The News To Myself
Clydie King – The Thrill Is Gone
Jackie Lee – O' My Darling
Nolan Porter – If I Could Only Be Sure
Garnett Mimms – As Long As I Have You
Ike & Tina Turner – Somebody, Somewhere Needs You
The Broadways – You Just Don't Know
14th October 2018 – Jayne's Soulful Sunday

by Fusion Radio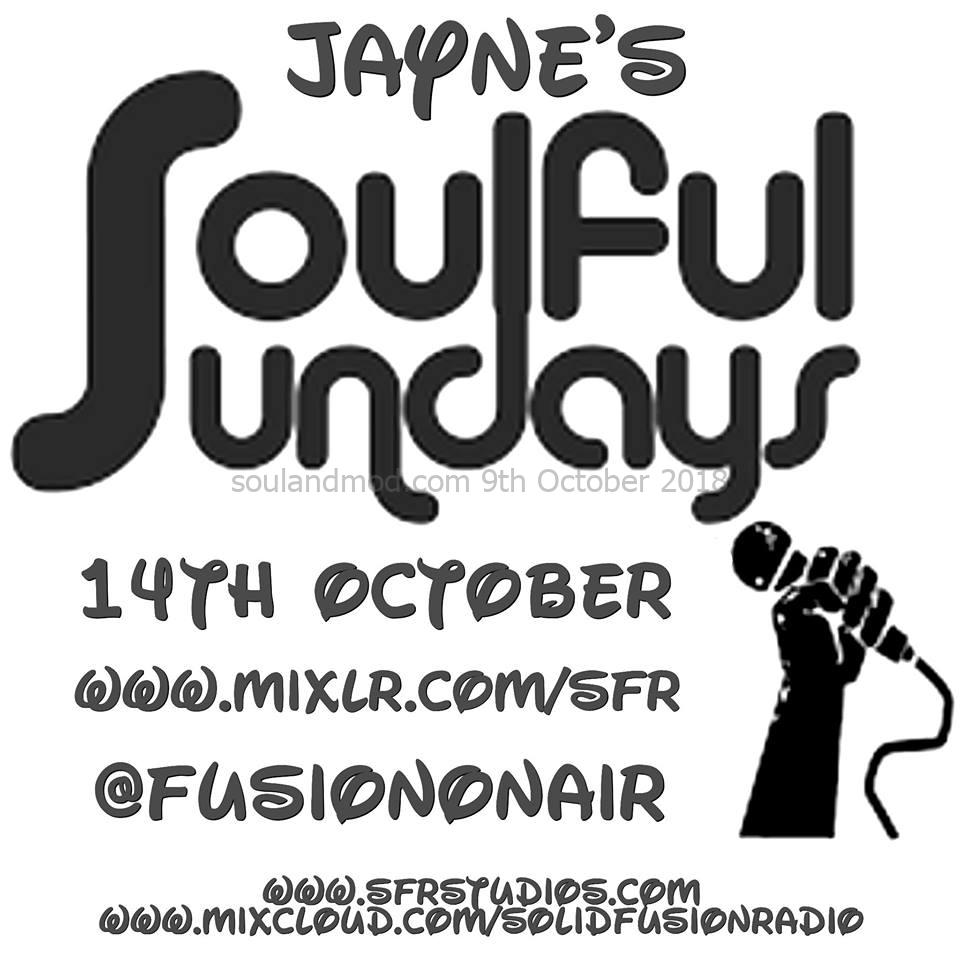 The Majestics – (I Love Her So Much) It Hurts Me
Baby Washington – Run My Heart
Creations – I Wanna Talk To You
Ray Pollard – This Time
Sissie Houston – Bring Him Back
Rick Lovejoy – Don't Leave Me Behind
Marlena Shaw – Let's Wade in the Water
The Turnpikes – Cast A Spell
Terry Callier – Look At Me Now
Mongo Santamaria – Cloud Nine
Arthur Alexander – Go Home Girl
Jackie Shane – Comin Down
The Groove – Love Is Getting Better
Marvin Gaye – When I Had Your Love
Carl Carlton – I Can Feel It
J D Bryant – I Won't Be Coming Back
Kenny Carter – I've Gotta Find Her
Suzy Wallis – Tell Him
The Drifters – Baby What I Mean
The Wall Of Sound – Hang On
Roy Hamilton – Reach Out For Me
Clyde McPhatter – Lonely People Can Afford To Cry
More recent and past uploads can be found here for other sets from the Fusion family

Jayne's Soulful Sunday Set 22/07/18 On Solid Fusion Radio – #60sSoul
© 2018, Jayne Thomas. All rights reserved.
Please follow and like us: